In my last column, we explored how Canada is beginning to recognize the value and purpose of industry clusters. We examined how in the EU, industry clusters actually inform and create the policy and programs that governments and stakeholders put in place to support SMEs (small, medium sized enterprises like yours').
Interesting concept: SMEs getting to dictate their needs for governments to deliver on; with longer term goals that are non-partisan or subject to the winds of democratic government change. We are working with our government partners to support our industry, and we are making progress, and I will keep you updated in these articles.
One very powerful nature of industry clusters is that competition gets funneled into synergies that benefit the industry at large. This happens with manufacturers sharing best practices; regardless of some perceived level of competition, since the value of what you learn outweighs any possible perceived risk (there really aren't any trade secrets in our industry, and our old industry culture creates these barriers).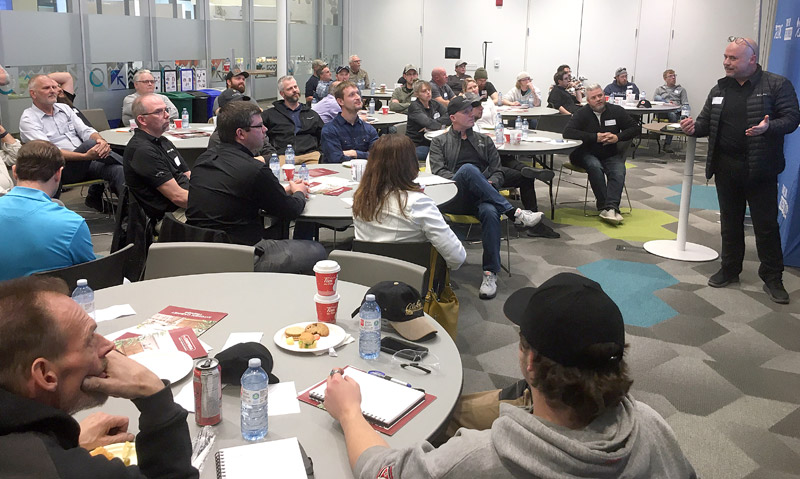 Suppliers are valuable stakeholders that provide expertise, technology, products, and services that help to make the SMEs successful. While the WMCO cluster membership ratio is kept at approximately 70% manufacturing vs. 30% suppliers, suppliers are also in competition with each other to sell their goods to our members. The trick is to harness this competition for the benefit of the manufacturing SMEs.
The job of an industry cluster is also to stay on top of the needs of the manufacturers, and industry trends. One of the themes that most wood-product manufacturers must deal with is finishing. This keeps coming up time and time again as a common theme for our members to perfect. It is a moving target. The best a manufacturer can hope for is getting consistency with their quality. But with so many operational variables and moving parts, it continues to demand continuous improvement and monitoring. Feedback from our members is constantly bringing finishing forward as a concern to learn more from or suppliers and learn from each other's best practices.
To meet this need, meetings started taking place in the spring of 2022 with a group of competing WMCO Associate members in the finishing industry, to work together to come up with a series of events and solutions to help the members. Feedback from manufacturers was shared, and they were also asked to bring forward the main issues their customers consistently bring to them related to finishing. Several meetings took place. The results of the exchange pointed to providing some immediate best practices and SOPs to solve common problems. Longer term learning opportunities related to automation in finishing, and related challenges (flat sprayers have become more affordable). This has lead to WMCO developing an ongoing finishing theme in the programming that will include seminars at networking events, along with plant tour case studies.
To start this initiative, four competing Associate members worked together on a value-packed day for members on Nov. 24, in Kitchener, Ontario. ML Campbell, Royal City Paints, Top Coat Solutions in cooperation with Allied Stars, and Shames Kremlin, worked together and provided a presentation that complemented each other, and provided huge value for the manufacturers. Themes included colour coatings and trends, equipment considerations and application, finishing challenges and solutions, and a set of SOPs for manufacturers to take to use in their facilities. This event was recorded and is available for WMCO members to view with their teams at anytime on the WMCO website. WMCO will be scheduling future finishing focussed events in the coming months that will include plant tours and focus groups.
One of the rules of engagement of the cluster with suppliers is that our manufacturing members do not want to hear the brand sales pitch. When WMCO first launched as the Bluewater Wood Alliance in 2011, the initial events had a focus on the suppliers collaborating in this fashion for presentations. If it became all about brand selling, the manufacturers disengage; it is all about expertise sharing in the proper channels.
Collaboration between competitors is a key feature of industry clusters. It applies to suppliers, and manufacturers alike. It is a value multiplier. Rising above the pettiness of competing for sales to consider the bigger picture, being open to understanding you don't know everything no matter how big you may be, is in the character of people and companies that engage and benefit from the value that clusters provide. By working together, we can raise our global competitiveness and begin to get on the same path to growth and prosperity that other countries are on.
Get involved now with the only cluster for the wood industry in Canada.
You can learn more here: www.wmco.ca, or contact us at
mbaker@wmco.ca