Laverne Martin credits his "people," for his success.




Laverne Martin is a people person.
Well, of course that's an old, tired and overused cliché, but the fact is Martin's focus today is much more people-centred than it was back in 2005 when he and his wife Emma founded their company on a modest beef farm in the St. Jacobs area.
Today, Woodland Horizon is a successful and growing business with 56 employees and a 20,000 sq. ft. shop and Martin credits his "people" for that success.
"There is no way, no way I could have done this on my own," he says. "Our people are our success. That may sound cliché, but it is the truth. It's all about having great people."
Martin says his focus now is much more people-centred than it was back when he started and he has made it his mission to build his teams rather than his business.
"What gives me joy is more in seeing people develop and become better people.
"As a business, we have a tremendous opportunity to teach people so much more than just woodworking. And hopefully send them back into their homes and their churches and their communities as better people.
"We put a heavy focus in lean manufacturing over the past five years or so, but the heaviest focus has been on the people and cultural side of the process."
Every day starts with a morning meeting "where we focus on personal and team development as well as leadership and inspirational and motivational development.
"We really try to focus on building our people and that has been a huge, huge part of keeping our culture together and avoid silos from being built."
Martin says he has seen too many companies which, when they grow, become siloed where departments are working on their own.
"But I am passionate that we are all working on the same team and we are all working towards the same goals. So, if it weren't for that morning meeting, people in different departments would not meet and talk to one another. I think bringing everybody together to talk about issues and do teambuilding is very beneficial."
That's the first 15 or 20 minutes of the morning and after that everybody gets another 20 minutes of time for improvement where employees are given the time and opportunity to improve "something that bugs them.
Finding and retaining employees is a challenge for any industry, but Martin says he believes focusing on employees has certainly helped Woodland Horizon.
"Oh sure, we still have occasional turnover, but it is low and we have a great group of people, many of whom have been with us for a long time."
Martin firmly believes strong teams build strong companies, and looking at the continuous growth every year since then, it appears his philosophy is correct.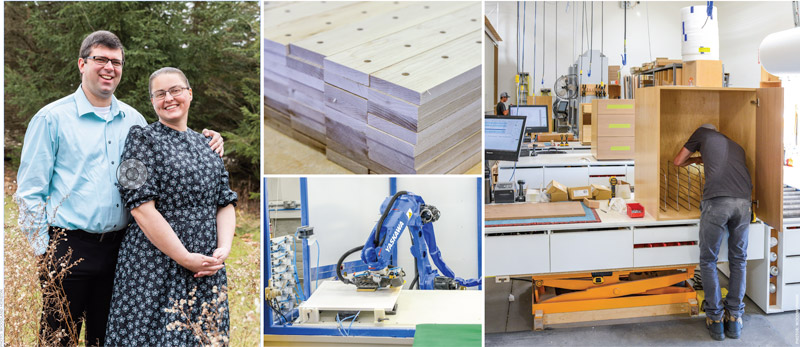 Humble beginnings
Martin grew up in the St. Jacobs area, just 25 minutes from where their business is located now, and he started working as soon as he was finished school.
"In the culture I grew up in – and I grew up horse-and-buggy Mennonite – it is pretty well understood that you start working in the trades as soon as you are finished school.
"I only really finished Grade 7 ½, that is as smart as I got, he says with a chuckle.
"So when I was 15 or so, I started working. It's almost like an apprenticeship, not a formal one of course, but you are working and learning in the trade, in small shops with two or three or five people.
I think that is really helpful because it exposes you to a much higher level of craftsmanship much quicker than just about anywhere else."
After a few years of working for different shops and companies - primarily in the solid-wood furniture world – Martin and his wife, who got married in 2005 - bought a small farm and built a small 2,000 sq. ft. shop on that farm and started their own business.
Starting production with a few simple machines and tools, in one end of the driving shed, Laverne and Emma focused primarily on providing sub contracted high-end custom furniture for a larger hospitality furnishings company..
"These were items that didn't fit their regular production model and we were doing those for them."
They did that until about 2010, by which time they had not only outgrown that space, but Martin also realized that his passion and skill in woodworking superseded his interest in the farm. So in a leap of faith, Laverne and Emma made the decision to sell the farm and relocate the business to a more suitable space, which turned out to be the property where they still are, a short 25 minutes from the old farm in Drayton, Ontario.
Martin says they were looking for an industrial property, they wanted to get off the farm because there are so many limitations on on-farm businesses and Drayton is where they landed.
At the time, the 4,800 sq. ft. facility, which had been home to a retiring cabinet maker, offered everything Laverne had dreamed of, lots of room to expand, easy access to all of Southern Ontario for a client base, and most of all, the ability to maintain the rural lifestyle that Laverne and Emma and their family still held dear.
Everything was going fine, but then in 2012, they had a fire and everything burned to the ground.
"That was in the spring and by the fall we were back up and running, we built a new, larger building and never looked back.
"We expanded in 2015 and again in 2018. Now we have almost 
20,000 sq. ft. and 56 employees. So we managed quite a bit of growth. We started, just my wife Emma and I, and have many fond memories of those days.
"But this is what we wanted, we worked our butts off, young and dumb," he laughs, "but as I said, over the years my perspective has changed dramatically and now it's more about people and helping everyone here to become better.
"We have been very, very blessed with our team. Of course every business faces challenges, but we've been fortunate in finding some very good people. We also hire a lot of young people and train them properly."
Automation
In addition on focusing on its people, Woodland Horizon has also bet heavily on automation.
"Over the last couple of years we have also really ramped up our automation side, especially software," Martin says.
"We use CABINET VISION, for design, pricing, and all production data, VORTEK Spaces for virtual video renders of designs, and then WEB-CAB for production management, so that takes care of scheduling, part tracking and part sorting.
"I can't speak highly enough of the software and difference it has made for us. It is user-friendly and they speak our language. And I also have to credit our team; we have great people who implemented this and made it happen. I have to tell you if it had been up to me, we would have gloriously failed."
Martin says implementing the software has been hands down the best thing they ever did because they had reached a point where the old systems just weren't working anymore.
"We had a sales volume we couldn't handle, so we had to do something to manage that, our schedule and our production needed to improve dramatically to keep up with our growth. So CABINET VISION and WEB-CAB helped us continue to grow and manage that growth properly with the machines we already own.
"It helped us speed up our production and manage the flow."
Martin says since the software implementation every department can see how they are doing compared to the schedule. Are they behind or are they on track, and then make adjustments accordingly. And the general manager - who sees the entire dashboard and what is happening where - can direct more resources to a bottleneck and help the situation along."
Asked about how long it took to implement the new software suites and get them up and running smoothly, Martin says they purchased the software about a year ago, but then sat on it for about six months while "the software guy," who is also their head engineer, went through everything and wrote standard operating procedures for the entire process. That helped him learn everything he needed to know and once that was done, they implemented it and it took very little time to get it running smoothly. There was barely a ripple, the preparation really was key.
Martin says they had tried once before, different software, but they failed.
"It never come together and we were growing faster than they were building this thing for us and we eventually pulled the plug on it and started over."
And the funny part was that there was hardly any pushback from staff.
"Everyone was feeling the pain of the old system and everyone realized that we needed to do something to make it better," Martin says.
"So when it came to implementing it, it was nearly seamless. And people didn't see it as a threat to their jobs because they trusted us to see it for what it was, an investment in the company to make it better for everyone."
As for next steps, Martin says they have just purchased their first sanding robot, which will arrive in a couple of months. It's a custom-built machine, so it takes a bit of time.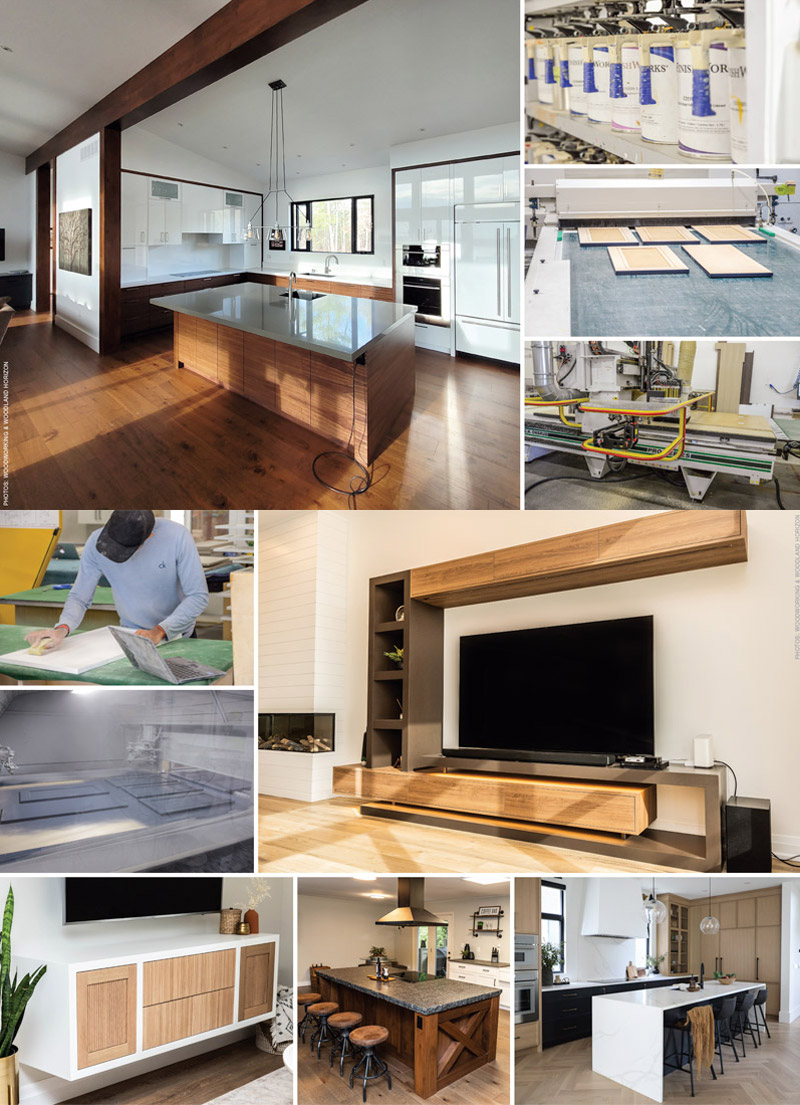 Why Woodland Horizon
"The name of the company came about when me and my wife were thinking about starting the company and then asked ourselves what we should call it," says Martin.
"There isn't much logic behind that, no great plan. We were just standing in front of the shop on the farm one day, it is situated in a hollow, and we noticed that there is woodland all the way around us on the horizon, so that's kind of how it happened. Nothing real grand, just what we saw. But we liked it and it stuck."
Up until about 2015 they had one primary customer and mostly worked for them. But then they hired their first sales rep and really started to focus on Woodland Horizon and building their own brand "and that was a real pivot point for us because we finally decided to sell and design our own products and focus more on what we do today rather than the furniture business.
"So, most of our growth has happened since 2015, when we started with built-in cabinetry. The biggest adjustment for me personally was the fact that we so completely changed what we were doing up until then. That took some time to wrap my head around, but I knew it was the right thing to do if we wanted to really grow the company.
"And I am glad that we did, because in any kind of economic downturn the subtrades get hurt as companies move production back in-house. Also, there is no middleman and the profit margins are better.
"Now we deal directly with the public as well as with design firms and contractors. Our ideal customer is the one that does only a few houses a year, but they do large and high-end estate homes. We don't really get into multi-residential or subdivisions, that's not who we are or the market we play in. It's your mid- to upper end of the market. And we do projects from start to finish, and we have sales staff and designers who walk you through the entire process.
Walk-in customers make up about 30 per cent of their work, and 70 per cent comes from their regular, larger accounts as well as a smattering of smaller contractors.
Woodland Horizon also recently expanded into Muskoka by opening a storefront there, but at this time they don't staff it, for now it acts as a sort of home base for "our installers up there."
"From our shop, we go about two hours, we cover most of Midwestern Ontario. Muskoka is kind of separate and we have an install team there and we are working with a design firm there, we are basically their manufacturing partner."
Lead times are still about four to five months, which is still significantly more than it used to be pre-pandemic and Martin says it would be nice to shorten it a bit more in the near future.
"We have had a really good period of strong growth since we pivoted to kitchen cabinetry in 2015, and I credit our people for helping us do that," Martin says.
"I said it before and I say it again, there is no way I could have done this on my own."
Equipment and software highlights:
CABINET VISION, for design, pricing, and all production data
VORTEK Spaces for virtual video renders of designs
WEB-CAB for scheduling, part tracking and part sorting
C.R. Snored CNC routers
Barbaric storage and retrieval system
HOLZ-HER edgebanding
Martin Shaper
Vecoplan chipper
Giardina flat line and curing oven