David Shaw and his wife Beth are living their dream.
As owners and operators of The Northern Joinery, the couple has built the kind of business David has been dreaming about ever since he was a little boy – to make beautiful things out of wood.
And he has come a long way from that first roll-top bread box he was making for his mom when he was just a young boy, to today, where his one-of-a-kind creations are highly sought after by designers, celebrities, athletes, friends and neighbours and shipped all over the world.
Shaw says he got the woodworking bug from his grandfather.
"He taught me when I was just a little kid hanging out with him and I have been doing woodworking ever since. It has always been my favourite thing to do, initially just as a hobby and eventually it turned into this and it's just great."
Shaw grew up in Oak Ridges, a suburb of Richmond Hill, just north of Toronto. After high school, he went to college to become a stone mason. He worked in that field for a couple of years, but then decided to get into the corporate world to work in IT. All the while though, he always worked with wood in his spare time.
"My grandfather, he was sort of a jack of all trades, he worked on cars and he would always build things and as a kid when I was hanging out he always taught me something new," Shaw says.
"Of all the things I learned, woodworking was by far my favourite and I always worked on hobby projects, smaller intricate pieces for friends and family until I decided one day that I should try to work in something I really enjoy. So in the early 2000's, I started a renovation company. I had all these different skills my grandfather taught me and I thought I would enjoy that a lot more than working in the corporate world."
Well, turns out he was right.
"We specialized mostly in custom kitchens and like so many people, we started out in our garage," Shaw says.
"There was no CNC, no automation, just very simple, manual equipment, we did edgebanding with an iron, but it worked.
We did custom, one-off kitchens and the business took off.
"At first it was mostly my wife and I, she helped me with the finishing and we just kept growing."
And then, after a couple of years and once they had moved to their first small shop, Shaw says they also started getting into furniture.
"It was really organic how that happened," he says. "So we would be building a kitchen for someone and then they'd ask us if we knew someone who could build them a dining room table, or if we would do it. And so we did and we never looked back."
Shaw laughs as he remembers his very first effort at furniture, a dining room table for a customer, because it was not a great experience.
"We had talked about what kind of table they wanted, we built it, but when I delivered it they hated it.
"That was an awful experience, I was feeling pretty dejected, but then a funny thing happened when we took it back to the shop.
"As we were unloading it, my neighbour happened to be outside and she asked me why the table was coming back. I told her that the customer didn't like it. And that's when she asked me if it was for sale because she loved it. Well, she bought it right then and there, I didn't even take it back into the shop and that made me feel really great.
That was how it started and they were getting orders for another piece and then another and it just mushroomed.
"It was all word of mouth and I started recognizing that I really loved building furniture because building cabinets is a skill that only goes so far. They're all just boxes, maybe with different door styles, but there is really very little that's artistic about it.
"But the artistic aspect of it is what interested me the most so I decided to focus on that. The furniture gives me an artistic outlet and I love that."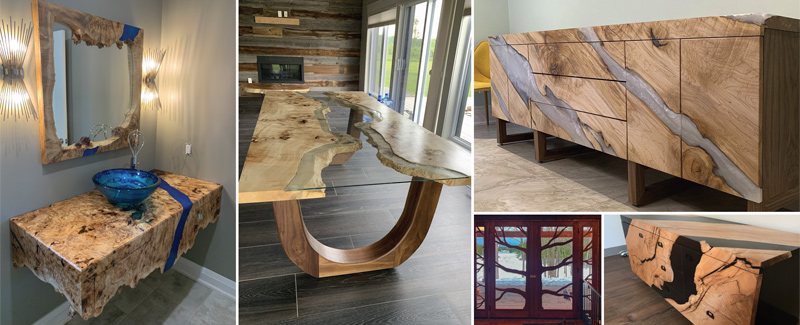 Shaw says he also really loves the aspect of one-of-a-kind pieces. And that still holds true today, because every piece they build is unique and "made for you."
"We never build the same piece twice. We make the piece for you, every piece is customized. The principle can be the same, you know like a round, white-oak table with black steel legs, but it would be unique," Shaw says.
"Wood is a living thing, so even if we wanted to replicate it, it would be different, because of the grain etc. So that's what we do. We don't have a catalogue of set pieces, everything we make is a one-of-a-kind, custom live-edge piece of furniture.
"That led us down a path where my wife and I started playing with different resins and epoxies and doing pours and experimenting with all the different materials.
We were always trying to do things that hadn't been done before or are definitely outside of the box."
Their customer base developed through word of mouth, from people seeing their work or hearing about it from friends and that's how they kept growing.
And Shaw says he believes, and that is how they've always run the business, that if you do right by people and do a good job at a fair price you are going to succeed in business.
He says there are plenty of wood shops out there and there are plenty of very capable woodworkers, but not everyone succeeds. "I think what sets us apart is how we treat our clients and how we go about every process for everything we build.
"We set ourselves apart by really making our clients feel as part of the story, of the build of their piece. We send them video updates of the piece being built and sometimes they even come by to visit the shop. It has been very successful because it keeps us all on the same page," says Shaw.
"And, as I said before, I believe we are different because we push limits. We try to do things that are leading edge and different, things that haven't been done before all in an effort to make something really unique."
In time, they have also started working for and with designers, something Shaw says has been a really big deal for them because working with other professionals has enabled them to access a much larger market.
"With a small team there is only so much you can do, so It's really, really nice to just open your email and to have a couple of purchase orders in there," he said with a smile.
"Repeat business is really nice for a business owner because you have that comfort of new orders coming in because you have been treating people well, they love your work and they want more of it."
Shaw says they have several long-standing relationships with amazing, busy interior design firms.
"We have some in California, some in Toronto and our biggest one where we do the most amount of work, is actually based in Barrie. They are really busy and do work right across the country."
And it helps him with his workload and allows him to spend more time in the shop.
"I don't have to travel to all those places and we also do a lot by email and Zoom, which helps. Of course I still have to travel, but it would be a lot more if we didn't have all these relationships. And in California we have a lot of clients we deal with directly and using Zoom has been a great help. So we have meetings about what exactly they want us to build and then we ship it directly to them and we give them the white-glove treatment through some local guys we work with. It works really well."
Prices range from hundreds of dollars to sky is the limit, but Shaw says people generally know that "we are not the Brick when they are dealing with us.
"So that helps with unrealistic expectations and budgets, but I really love it if people tell me their budget. Not to maximize what I can charge them, but to help us work with them and get them something they love within their budget. I don't' have to build someone a $10,000 dining table, I can build you a lovely one for half that, but we just have to have the discussion about what you are looking for."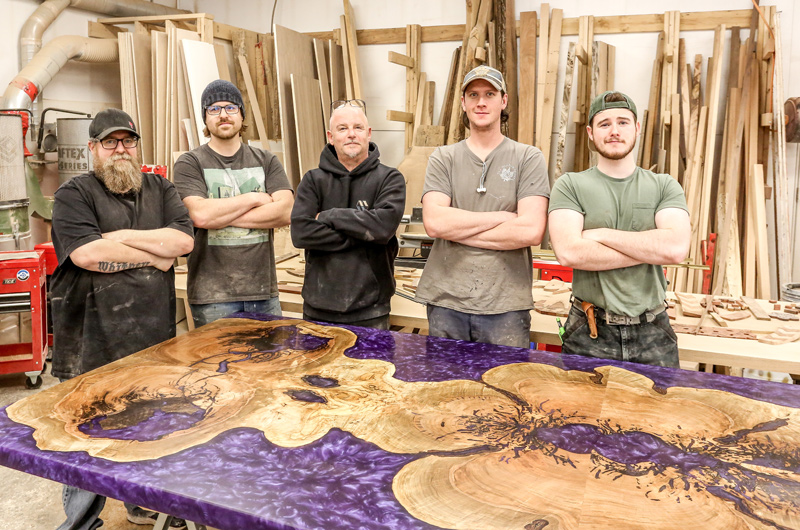 Going north
Originally the business was based in Aurora, Ontario but Shaw says in 2017, somebody knocked on their door and offered them silly money for their Aurora home. Initially they laughed it off, but then they started talking about it more seriously.
"We had talked about moving a little further north and slow down a bit," he says. "I was working seven days a week and it was just getting a bit too much. So then we started looking at some properties further north and we ended up looking at some properties in Oro-Medonte, just south of Orillia, Ontario.
"So we drove up to Orillia one day, had lunch at Brewery Bay and walked around the town and along the water and we just loved it. So we said OK, we like this area and we bought a house.
For the first year, they kept the shop in Aurora, because Shaw says he was scared to leave the area where they started and built a successful business.
But after a year of commuting, he decided it was time.
"I was busier then ever and I was adding three hours commute to my day, it just didn't make sense anymore so we finally moved the shop to Orillia as well.
"That also gave us access to this area and Muskoka, which is actually quite affluent, and a lot of our clients in Toronto also have cottages up here. So it was a good move and what made it even better was the fact that every single one of my guys moved with us."
The shop moved in 2018, which was also the year they opened their store in Orillia as a way to showcase their product.
The store, The Northern Joinery Makers Market, was located on Mississaga Street and in addition to their work it also showcased some 70-plus vendors, all local amazing local artisans making everything from leather goods to candy. Unfortunately they had to close the store a couple of week ago because the pandemic drastically altered the retail landscape and Shaw said it never really recovered.
And while that was a sad and emotional day, The Northern Joinery is doing well and Shaw says they are excited about the future.
They have also relocated a little while ago combining their residence and the shop on a property just outside Gravenhurst, Ontario.
They bought the land, just as COVID hit and that made for some anxious times, but Shaw says they managed, built their own home and the shop and settled nicely into their new environs.
"I think we are right where we want to be. The business is doing well, we are in a beautiful area and we're located close to our main markets in Toronto and Muskoka."