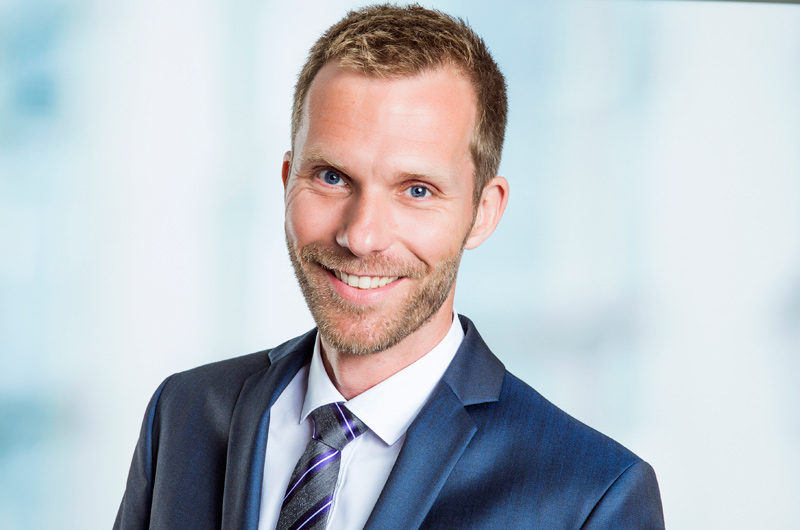 Photo: interzum
Maik FischerIn conversation with Maik Fischer, director interzum trade fair, CologneIt's been a while since you held interzum. What's new at interzum 2023 - Could you talk about the different themes, particularly "green" and sustainability?
interzum will be the main industry event for the global furniture production industry and international interior design community in 2023.
Attendees can expect a comprehensive overview of all innovations, new products and solutions now available on the market.
Our event is also a major platform for idea generation as well as networking – face-to-face meetings have not been possible for a long time and our show will provide a much-needed environment for personal exchange again.
One major aspect at interzum 2023 will be sustainability and "Neo-Ecology," which is our global lead theme.
Some of the current challenges for manufacturers in our industry are how to implement sustainable and resource-efficient solutions.
Many of our exhibitors already have some answers to these challenges.
That is why we decided to put the topic of sustainability into the focus of communication and have invited and encouraged all exhibitors to point out what products and solutions 
they offer.
interzum will highlight this topic on the show floor – we will offer the "Boulevard of Sustainability" in the north section of our event where about a dozen exhibitors present solutions (in addition to their regular booth) and show specifically what they are doing in regards to sustainable products and production, circular economy, cradle to cradle etc.
What sets interzum apart from the other industry events and what makes it such an important show?
Thanks to the worldwide strong industry commitment both on the exhibitor as well as the visitor side, only interzum is capable of bringing together the entire industry in one place and at one time.
Our event attracts top decision makers and buyers with strong buying power.
Interzum offers new products, new trends, new designs, the latest topics the industry is discussing as well as the different global perspectives.
And interzum is the most important get together in the world for attendees to meet so many business partners and industry contacts in one place.
How many exhibitors do you expect at the show and since interzum has always attracted large numbers of international visitors, what are your expectations for this year, especially in light of the pandemic?
We expect to be at a similar level as interzum 2017, when we set an all-time record. That means we are projecting to have 1,400 exhibitors from approx. 60 countries this year.
Among them are almost all global Leaders as well as many SME .
At this point it is too early to project attendee numbers, but we have received a lot of positive feedback from all over the world indicating people are excited to meet up in Cologne again, which makes us confident we will also reach strong attendee numbers.
Many exhibitors of our other post Coved tradeshows have commented that visitor quality is high and there are more serious buyers with decision-making power on the show floor.
How will this year compare 
to previous shows?
We will have a strong industry commitment on the exhibiting side so visitors will get a comprehensive overview of what is being brought to market and what the market demands.
Additionally, we have focused on 
and invested in our event program 
(www.interzum.com/en/events/events) as 
we understand a globally relevant trade show such as interzum must continue to develop to be a source of inspiration and knowledge.
We will see three Trend Forums (one special show for each of interzum´s three segments), which will showcase relevant topics.
Our interzum Trend Stage is a perfect source of inspiration as we will have a broad set of speakers informing the attendees about so many different yet important topics.
Our interzum Product Stage will be the exhibitors´ stage where they can present themselves and their products to the audience.
Our interzum award will once again honor the most innovative products to be shown at interzum
And of course the "Boulevard of Sustainability" (see above).
And for the people who will not be able to make it to Cologne this year, we will offer our online edition "interzum@home 2023." This digital event is taking place one week before the physical show with its pre-show phase and then especially on May 15 and 16.
At interzum@home the participating exhibitors (please note: participation in interzum@home 2023 is not mandatory for exhibitors of interzum Cologne) will show 
their products and innovations.
And we as interzum organizer will have our Trend Forums and the interzum Trend Stage´s and interzum Product Stage´s presentation also available at interzum@home 2023.
What are your main objectives for this year's show?
Our objective as always, is to provide the strongly needed and desired global platform for the industry and act as the perfect showcase for all the innovations introduced to the market.
We also endeavor to be the source of inspiration and knowledge especially with our broad event program.
How would Canadian visitors benefit from visiting interzum?
Like all participants, Canadians would benefit from global insights, global business, global sourcing and global inspiration.
What have you heard from exhibitors? Are they positive/optimistic?
Definitely! As I said before, the industry desires an event such as interzum as so many of the exhibiting companies and visitors have missed a personal get together during the last three years of the pandemic.
And as the products showcased at interzum are mainly haptical products, a personal visit cannot be replaced by anything else.