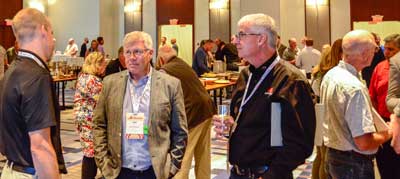 In June 2023, the Architectural Woodwork Manufacturers Association of Canada (AWMAC) concluded its highly anticipated national convention in the vibrant city of Toronto, Ontario. Bringing together industry leaders from across the country, the event, co-hosted by the AWMAC Ontario Chapter, proved to be a resounding success, fostering innovation, collaboration, and knowledge sharing within the architectural woodwork sector.
Networking opportunities
The convention provided an exceptional platform for attendees to network, exchange ideas, and form valuable partnerships. Industry leaders across Canada took advantage of the event's networking events to expand their professional networks and explore potential collaborations. The prestigious Glen Abbey golf course, the Hockey Hall of Fame, and closing gala were just a few of the events in which attendees could participate.
Highlighting innovation and technological advancements
The convention showcased the latest technological advancements and innovative practices in the architectural woodwork industry. AWMAC partners and supplier members presented cutting-edge machinery, software solutions, and sustainable materials revolutionizing the sector. Attendees had the opportunity 
to witness demonstrations, explore product showcases, and engage in meaningful discussions with industry experts, gaining insights into the future of woodwork manufacturing.
Educational seminars
Education formed a crucial component of the convention, with informative seminars and group discussions aimed at enhancing professional skills and knowledge, along with growing AWMAC as an association. Renowned speakers delivered insightful presentations on topics such as safety and risk management, construction contracts, and strategies for attracting and retaining skilled workers, along with an inspiring keynote by former Toronto Maple Leafs captain Wendel Clark, on what he has learned from some of the best leaders 
in the game.
Recognition
The convention also celebrated those that contribute to the architectural woodwork industry.
The Awards and Recognition Luncheon, hosted by AWMAC B.C. Director Menza Bouwman, recognized committee volunteers and volunteer milestones, new members in attendance (Planit Canada, Einbau Ltd., Microvellum, Piddi Designs, Sandha Woodworks Service, Seradex), life members in attendance (Frank Sansalone, Jim Taylor, Craig Clark, Ken Jackson), the winners of the AWMAC National Contest for Students and Apprentices in Woodworking (Derrick Penner of the Manitoba Chapter - 1st place, Aidan Speight of the Southern Alberta Chapter - 2nd Place, and Matt Marusyn of the Northern Alberta Chapter - 3rd Place), and President Jeff Clermont bestowed AWMAC's highest honour to Carlo DeFrancesco, the President's Award, which Carlo's family accepted on his behalf during the luncheon.
In summary, the 2023 convention proved to be a remarkable event, uniting industry leaders and emphasizing the importance of this year's convention theme, initiated by the late Carlo DeFrancesco, One Team, One Goal. My sincere gratitude is extended to the AWMAC Ontario Chapter for co-hosting the convention. In particular, Laurie Suikki, Peter Gallagher, Ian Christie and Nick Anastas – thank you for your intuitive ideas, swift solutions, collaboration, and trust. Planning a national convention is no small feat, and due to COVID, you did it not only once, but three times. Your commitment to ensuring a positive experience for all is truly commendable. Thank you.
And finally, AWMAC is thrilled to announce that the next AWMAC National Convention will be co-hosted by the AWMAC Saskatchewan Chapter. Save the date, spread the word, and get ready to join us in Saskatoon from June 5-7, 2025. Stay tuned for further updates regarding the schedule, registration details, and accommodations at awmac.com/convention.