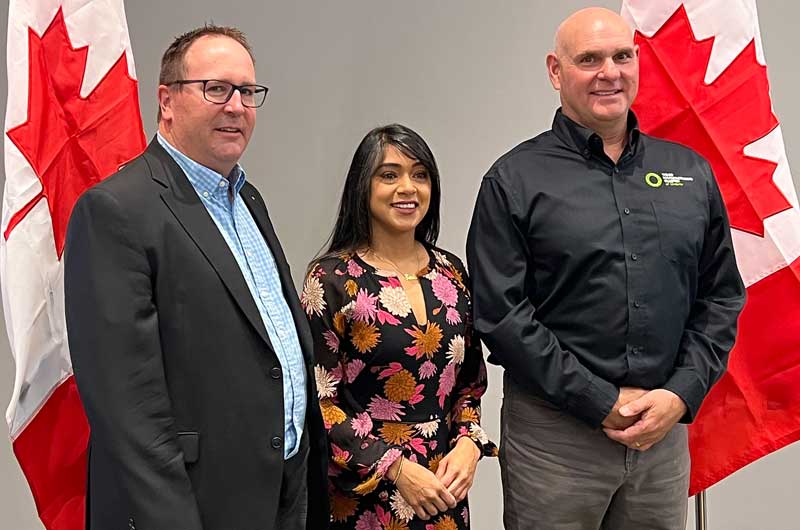 Waterloo MP Bardish Chagger, is flanked by Chris Martin, WMCO chairman, and Mike Baker, WMCO CEO, following the announcement of a nearly $2.9 million grant to WMCO to help members adopt digital strategies.

The government of Canada has announced a $2.9-million grant to help 50 SMEs adopt technologies that will help them contribute to a strong economy and create 50 new jobs.
Ontario is home to the largest concentration of advanced wood manufacturing in Canada. The forest industry is a pillar of the Canadian economy. There are over 3,000 companies that employ 35,000 workers. Their work contributes more than $7 billion in revenue each year. The Government of Canada supports these workers and the manufacturers that employ them as they evolve, scale up, adopt new processes and technologies, increase their production capabilities and create good jobs for Canadians.
WMCO President Mike Baker said this is an important step for the entire industry because "it really marks the first time where we have a government agency working with and through a cluster in Canada as they have recognized WMCO as a critical entity representing the value-added wood industry in Canada.
"This project is leveraging the cluster eco system and we can get funding to the SMEs that need it," Baker says. "The nice thing about it is that the government recognized that the industry-led cluster knows what the industry needs.
"We've already created a digital road map and now we know what to do and what we need to support our members.
So they flow the money through us and they don't have to deal with individual companies and perhaps, more importantly, it gives access to companies, who may or may not otherwise be able to navigate all the necessary steps to access this funding."
Baker adds that this announcement is a quantum leap of trust and recognition and the result of many years of advocacy from WMCO for its members.
"We're in the position to execute this kind of project because we represent all segments of our industry and we are really excited about being able to help 50 companies over the next few years to help them get where they need to go."
On behalf of the Honourable Filomena Tassi, minister responsible for the Federal Economic Development Agency for Southern Ontario (FedDev Ontario), the Honourable Bardish Chagger, MP for Waterloo, participated in the Wood Manufacturing Cluster of Ontario (WMCO)'s Quarterly Networking Event, where Chagger announced the almost $2.9 million in support for the organization so they can help SMEs in southern Ontario adopt digital strategies.
WMCO is an industry-led cluster that supports SMEs across southern Ontario. Businesses include those specializing in cabinetry, commercial fixtures and millwork, furniture, flooring, mass timber construction and other niche products. With this investment, WMCO will support manufacturers as they adopt technologies, including supply chain digitization and increased Internet-of-Things capabilities.
Seed funding for SMEs
Through this investment, WMCO will provide seed funding for up to 50 eligible SMEs undergoing digital adoption projects, creating 50 new jobs. As part of this investment, 50 new products, services and processes will be commercialized. WMCO will also prioritize SMEs in rural and Indigenous communities through targeted outreach activities. For more information, please visit the website.
The Government of Canada is investing in manufacturers so they can reach their potential and develop new possibilities for this important industry.
"Ontario's wood manufacturing industry is an important piece of Canada's economy. Our government supports the hard-working people who are reaching their potential and driving this sector forward. By investing in wood manufacturing SMEs and the organizations that support them, we are working together to create good paying jobs and ensure these businesses can continue to grow and scale-up for years to come," Tassi says.
And Chagger added that, "Today's investment is supporting local advanced wood manufacturing SMEs right here in the Waterloo Region and across Canada to scale-up and modernize their processes for a strong future. The forest industry is a vital contributor to economic growth and the Government of Canada is committed to investing in our manufacturers so they can create good jobs, grow their companies and thrive for years to come."
Since 2015, the Government of Canada, through FedDev Ontario, has invested more than $770 million in more than 360 projects in manufacturing creating over 10,900 jobs and maintaining over 11,400 jobs.