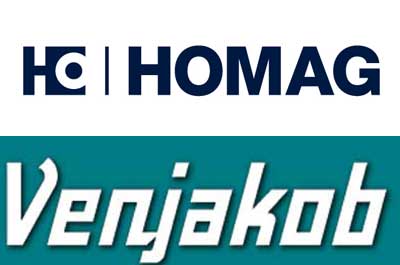 HOMAG Canada is proud to announce their collaboration with Venjakob, which will expand their solution portfolio of woodworking machinery to include Venjakob's range of finishing and coating products.
HOMAG Canada, together with Stiles Machinery, makes up the North American arm of the HOMAG Group. The companies work together to deliver manufacturing solutions, such as advanced machinery, software, parts, field service, and technical support, to manufacturers in North America. Following the success Stiles Machinery has had distributing Venjakob and Makor products to customers in the United States, HOMAG Canada is pleased to deliver additional finishing solutions to complement the Makor offering and provide a more comprehensive solutions package to its Canadian customers.
Venjakob designs and manufactures automated spray coating and finishing solutions, from pre-treatment processes to coating, conveyor and handling equipment, drying, and exhaust air filtering. Prior to this new partnership with HOMAG Canada, Venjakob North America handled all business in Canada. Now, Canadian customers will have a much larger support system from the combined forces of both companies.
This new partnership will create a unified North American strategy for HOMAG Canada, Stiles Machinery, and Venjakob North America. The close cooperation between the three companies will give the Canadian woodworking industry access to advanced machinery and manufacturing solutions complemented with exceptional customer service and after-sales support.
"Venjakob is pleased to announce the collaboration with HOMAG Canada. We already have a strong and successful relationship with Stiles in the United States. We are sure that this will strengthen the forces of HOMAG Canada, Venjakob North America, and Venjakob Germany to serve our Canadian customers in the best possible way," said Christian Streit, executive vice president of Surface Technology at Venjakob Maschinenbau GmbH & Co. KG.
Customers can expect a seamless integration of HOMAG Canada's consultative approach to woodworking manufacturing solutions and Venjakob's state-of-the-art surface finishing systems. This combined offering will enable businesses to optimize their production processes, enhance product quality, and increase efficiency.
"Both HOMAG Canada and Venjakob North America share a commitment to delivering exceptional customer service and tailored solutions. By leveraging our respective strengths and expertise, this partnership aims to provide customers with unparalleled support and guidance throughout their woodworking and surface finishing journey," said Marco Fernandes, managing director of HOMAG Canada.