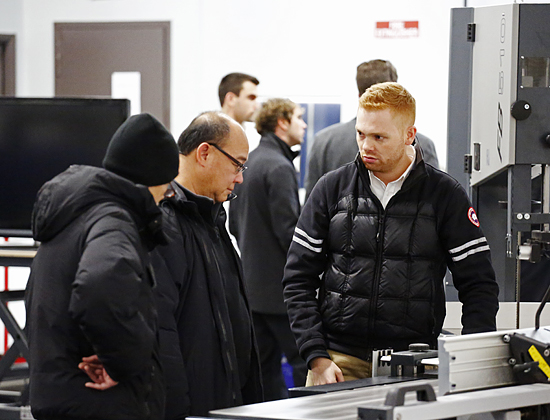 At the last Felder Group Canada Open House event.

Felder Group Canada will be holding a Spring Open House at its office and showroom at 1745 Meyerside Drive in Mississauga, Ont. April 16-18.
During the Open House they will extend their opening hours on Thursday and Friday until 7 p.m., and on Saturday from 10 a.m. - 3 p.m.
The three-day event will feature a showroom full of the latest production equipment from superior quality hobby machines to industrial automated excellence, including the FW1102 Classic - 43" wide-belt sander, FS900KF oscillating edge sander and the industrial-line of pre-milling edgebander, the G660; plus the G680 with pre-milling and corner-rounding unit.
Josef Junker, Felder Group's export manager for Canada and Australia. Said their last open house in the fall was one of the best Open Houses they've had and they are hoping many existing and new customers and woodworkers in general will come out and have a look at the quality machines and services Felder Group Canada has to offer.
"We are very happy that new people are constantly discovering Felder, that is important for us to continue to grow the brand," Junker said.