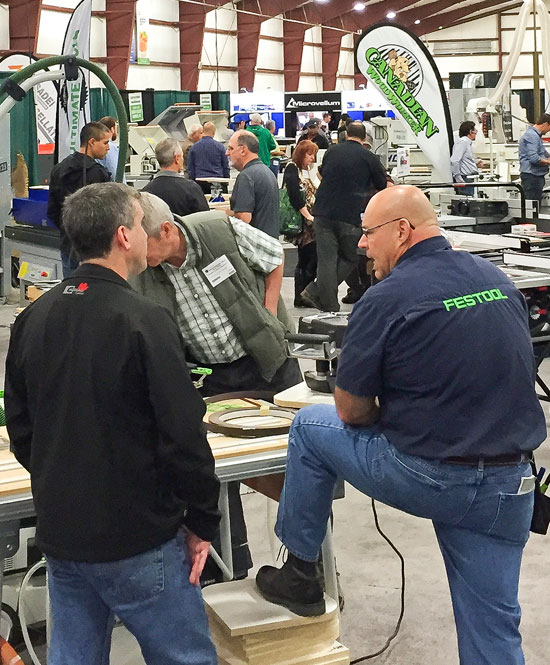 Photo: Woodworking
Canada Woodworking West was held in Abbotsford, B.C. Oct. 7-8.

Canada's newest woodworking machinery and supply show gets high marks from participants.
The inaugural edition of Canada Woodworking West held October 7-8 at Tradex in Abbotsford, B.C. and was specifically geared to secondary woodworkers in British Columbia, Alberta and Saskatchewan.
"By all accounts, it was a great first show with positive feedback from both exhibitors and show visitors," says show manager Mike Neeb.
"Overall, our team was very pleased with how well it was received in Western Canada, building on the direct success we've had with Canada Woodworking East in Montreal."
A qualified audience of cabinet manufacturers, residential and commercial furniture manufacturers, architectural woodworkers, millworkers and custom wood product manufacturers was in attendance to source the newest and most innovative products on the market, network with industry peers and attend a range of informative and educational seminars.
"Attendance at the educational seminar series exceeded all expectations and re-confirmed our belief that secondary woodworkers in Western Canada were ready to fully participate in and take advantage of this regional learning opportunity," Neeb says.
"I would like to thank AWMAC BC, The Centre for Advanced Wood Processing at UBC, The Wood Manufacturing Council and FPinnovations for their support and sponsorship of the seminar series."
Feedback from exhibitors has been overwhelmingly positive, with comments indicating that the audience was very high quality.
"I want to thank you for your support during the show. You certainly made our participation a pleasurable experience. We have been treated extremely well from start to finish. Canadian Woodworker put a lot of effort and expense into this show and the response of the attendees was overwhelmingly positive and very well worth all our efforts. In talking to other exhibitors, we found a similar positive response. We look forward to the next Canada Woodworking West with great anticipation. Thank you!
Cole Moore, Canadian Woodworker Ltd.