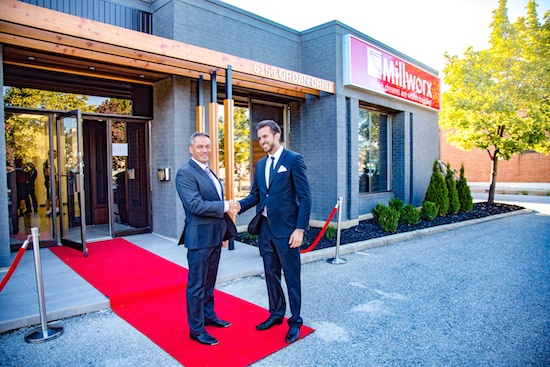 Photos: Woodworking
Partners Arthur Kisicki and Eric Waskow.

Millworx has been living up to its slogan 'When Dreams are Worth Building' for years, combining exceptional design with thoughtful execution for customized homes and businesses.
And recently - the company which specialize in the design, project management and build of high-end contemporary custom kitchens and all interior details for residential, commercial, retail, and medical projects - held a grand opening at its new offices and showroom at 6150 Ordan Drive in Mississauga, Ont.
Partners Arthur Kisicki and Eric Waskow say it was a dream come true to be able to purchase the new, much larger facility to accommodate their growing business.
Millworx is committed to turn customers' dreams into reality, from start to finish and every step in between.
It starts with the design completed by a professional designer, right through to managing the entire project and delivering a quality product.
Waskow says the solid quality behind Millworx speaks for itself and with generations of European craftsmanship experience, their in-house carpenters, cabinet makers, and tradesmen are the best at what they do and pay careful attention even to the smallest details.