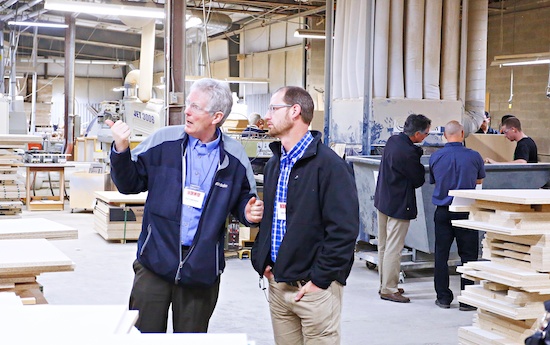 Photos: Woodworking
CKCA Regional offered something for everyone.

The Canadian Kitchen Cabinet Association held its third and final Regional Meeting of the year in St. John's, Newfoundland earlier this week with a perfect mix of activities.
From business discussions, guest speakers and shop tours to leisure and social time giving everyone a chance to explore 'The Rock,' there was something for everyone.
CKCA President Jim Lawrence said he was pleased with the event.
"Of course we are always hoping for even more members and prospective new members to come out to see what the CKCA is all about, but I think we had a good event here and there were many opportunities for members to benefit from the tours, speakers and just talking to other shop owners and members."
The meeting, held Sept. 20-22, kicked off on Sunday with a round of golf.
In the evening the event got officially underway with a welcome reception and dinner at the Sheraton Hotel Newfoundland.
Following the dinner, Lawrence talked about 'Big Marketing Ideas for Small Marketing Budgets.'
Other speakers featured during the two-day event included Richard Lipman of the Wood Manufacturing Council, Peter Mate of Planit Canada, Mélanie Brochu of FPInnovations, David Haire of the Newfoundland&Labrador Division, Canadian Manufacturers and Exporters and Denis Manning of Grant Thornton, LLP.
On Monday, participants took part in plant tours at Nuway Kitchens and Horizon Laminates.
In the evening, it was time for the famous Screech-In and kissing the cod ceremony that was part of the 'Rally in the Alley,' a tour of some of St. John's famous bars and pubs. St. John's prides itself in having more bars and pubs per capita than any other city in Canada and most are located in the infamous St. George Street.
The group got to experience the famous nightlife of downtown St. John's, starting with a traditional fish and chips dinner and an organized pub-crawl that features local entertainment and cultural experiences in each venue. It finished at one of the venues on George Street, complete with a live dance band.
Tuesday finished off the event with breakfast, speakers and a final luncheon.