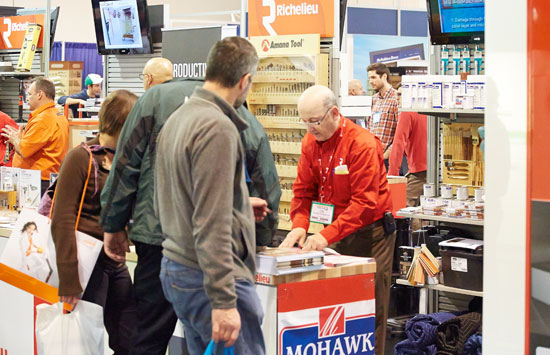 Photos: Woodworking
WMS 2015 will feature more than 200 exhibiting companies.

The largest woodworking industry event in Canada – the Woodworking Machinery & Supply Conference and Expo - is going to be big with more than 200 exhibiting companies and thousands of woodworkers will converge on Toronto's International Centre November 5-7, for this important industry event.
New this year is the 'Reboot Your Business' conference, introducing Industry 4.0, wood shop best practices and new technology applications.
Organizers say the favorable US/Canadian exchange rate also makes it a good time for U.S. woodshops to consider a business-building trip to neighbouring Canada, with airfares and hotel rooms a real bargain.
But regardless of whether you are a visitor to Canada or not, here are some not-to-be-missed events WMS 2015 has on offer:
1. WMS Reboot Your Business Conference
For this first time, WMS 2015 will run a two-track conference program on Nov. 5, opening day of the show, right on the show floor. This arrangement gives everyone a chance to stop in and attend sessions at will. Registrants are more than welcome to duck out for a product demonstration, than come back for a session. The two-track conference agenda, divided between business and operations, means there are a dozen learning events to choose from, along with a keynote and luncheon.
2. Profit Booster WMS Expo Floor Tour
In addition to great conference sessions, registrants are invited to a special VIP showing of technology and new product developments on the floor. This curated tour will provide insights into the newest supplier offerings, and it is anticipated that it will include some beta products and developing technologies. A definite must-see.
3. Meet The Award Winner
Conestoga College woodworking program has delivered a brand new industry star: Young Wood Pro Dylan Horst. He'll be on the WMS show floor with his winning entry, his Benge and Ash masterpiece. His appearance is sponsored by Rampa Tec, at Booth 1085. Hear Dylan also during the Woodworking Inventors panel at 11 a.m. on Saturday, Nov. 7.
4. Peer-to-Peer Woodworker Roundtables
This perennially popular feature at many woodworking venues makes its WMS debut, with two occasions to allow you to get elbow to elbow with other woodworkers. Friday Nov. 6, "What's your Problem Roundtable: CNC Technology" runs 11:00-11:45 a.m.; and on Saturday Nov. 7, "What's Your Problem: Finishing" runs 11:00-11:45 a.m.
5. Facetime with Houzz
The juggernaut that is Houzz.com has gone global (with offices in Berlin, Sydney, Moscow, Tokyo and London), but major audiences are concentrated across North America where it is sharing the best work of fine cabinetry and home interior craftsmanship, and helping customers find woodworking pros buy more than 3 million curated products. Houzz marketing guru Lindsey Thudin will guide you to getting prominence and sales, through your own Houzz website. Bring your laptop: wireless is provided and Thudin will help you build or improve your Houzz page in real-time.
6. Toronto Dining & Sightseeing
We don't have to go into great detail here. As one of the great cities of the world, and among the most cosmopolitan, Toronto has a wide range of dining and entertainment venues. The WMS show ends at 6:00 p.m., and Toronto awaits!