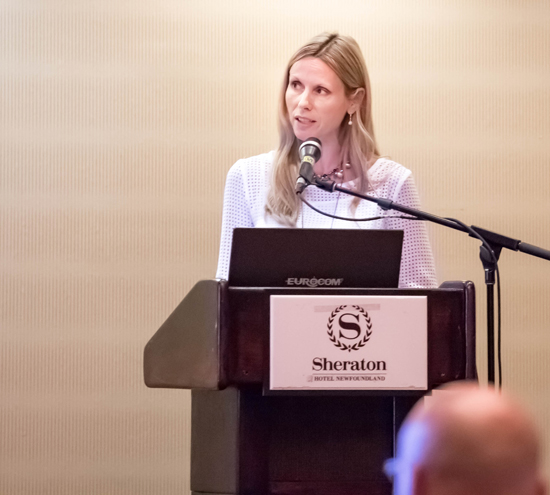 Photo: Woodworking
CKCA Manager Dawn Wilson at the Regional Meeting in St. John's.

These are exciting times for the Canadian Kitchen Cabinet Association as it is about to unveil its new branding at WMS in Toronto in November.
Association Manager Dawn Wilson spoke to members on the progress of website and Certification Program updates as well as offering a first look at the new CKCA logo as part of her presentation at CKCA's recent Regional Meeting in St. John's.
The new branding along with a completely-redesigned and updated website, will all be part of the CKCA's display at the Woodworking Machinery & Supply Conference and Expo at the International Centre in Toronto (Mississauga) Nov. 5-7.
And later this year, CKCA will also unveil its updated Certification Program.
The CKCA Certification Program was first launched in 2009 and introduced national standards for cabinetmakers across the country. The program is designed to differentiate Canadian-made cabinets from imported cabinetry via a uniform construction and material-testing standard for kitchen cabinets and vanities.
It is available to all active CKCA members in Canada.
However, since the program was first launched, construction methods, and materials have evolved and the association has spent months reviewing all aspects of this program to ensure it is current and applicable to all manufacturers.
The newly-updated Certification Program is set to launch before the end of the year and will provide customers with the information to make informed, confident decisions when they renovate or purchase a new home.
Like other well-established certification programs such as ENERGY STAR, Canadian Standards Association (CSA), and LEED Rating Systems Certification, this program offers Canadian cabinet manufacturers the opportunity to build consumer confidence with the promise of consistent quality products they can trust.