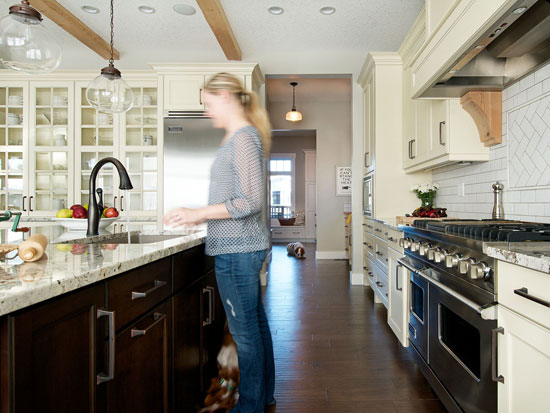 Superior Cabinets celebrates 35th anniversary.

September marks a major milestone for Superior Cabinets - one of Western Canada's leading manufacturers and suppliers of kitchens with a reputation for fine quality products, outstanding customer service and dedication to employee success - as they celebrate their 35th anniversary. Superior Cabinets was established in 1980 in Saskatoon, Sask., by Charles Larre, as a small cupboard/cabinet shop with a vision to create a company based on integrity, dedication to customer service and product innovation. Today, their vision has not changed. As experts in kitchen design, they incorporate leading-edge innovation and kitchen functionality in all of their projects. Dedication to their customers is a priority for Superior Cabinets and their service promise is unparalleled.
Superior Cabinets has been through a dramatic turnaround over the past five years.
"To give you the magnitude of the turnaround of our company, the last time we produced 25 Kitchens per day was in 2008, which took 400 people and 16 weeks to get it installed into the house. Today it takes 300 people and we install it in 6 weeks guaranteed," says Scott Hodson, Superior's president and CEO.
"You can transform but it takes people and it takes a change in thinking, and often you need a crisis." Superior's transformation is an example of how Canadian manufacturers are changing to become more customer driven and dynamic in the face of increasing competition at home and abroad.
In October 2014 Superior Cabinets was awarded as the winner of the first BDC Entrepreneurial Resiliency Award. The award is designed to recognize a Canadian business that has successfully undergone a turnaround or pivotal event in the past years and come back stronger because of it.
Moving forward Superior Cabinets continues to redefine its customer experience. Superiors' mandate is to make a difference in their community and for their clients by creating beautiful functional spaces that last a lifetime.
"It's always hard to measure intangible things, such as experience. Customer Confidence, retail sales growth, builder account capture, maintaining our profit margins, the steady flow of positive customer reviews/testimonials are what we are focused on," says Hodson.
Superior Cabinets attributes their success and this important milestone to the hard work and dedication of the Superior family and the support of their many supply partners and loyal clients.
The company employs some 300 members across locations in Saskatoon, Regina, Calgary, Edmonton and Fort McMurray.