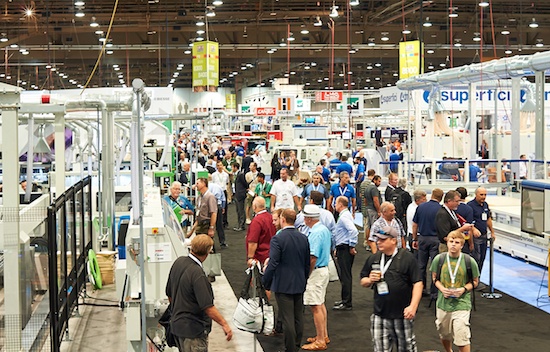 Photos: Woodworking
AWFS Fair exceeded expectations with a bigger show featuring more exhibitors and attracting more visitors.

The 2015 edition of AWFS Fair, which was held July 22-25 in Las Vegas, Nevada was a big success.
"AWFS is extremely pleased with the results of the 2015 Fair and, most importantly, the positive feedback we have gotten from many of our exhibitors," says Angelo Gangone, executive vice president, AWFS.
"(Our) staff and association volunteers take a great deal of pride in delivering to every one of our participants, which include many AWFS members, the best show experience we possibly can and look forward to unveiling new show features and an expanded show floor with even more exhibiting companies in 2017."
AWFS Fair attendance increased over 2013 as the show hosted 10,555 registered attendees (a 15.5% increase) and 15,577 total participants with 593 exhibiting companies occupying the most exhibit space since 2009, and drawing industry professionals from 67 nations around the world.
"We are very pleased with our results and, most importantly, the feedback we have gotten from many of our exhibitors," says Wade Gregory, western region sales manager for ARAUCO North America and AWFS president.
2015 Trade Show Chair and Board Member, Dan Hershberger, HOLZMA sales manager from Stiles Machinery, also praised this year's Fair.
"The anticipation for the show this year was very high and AWFS Fair 2015 did not disappoint. Every area in which statistics are kept showed improvement. Exhibitors I spoke with expressed how good the show was for them in all areas. The results are a definite confirmation of the commitment that AWFS has to provide a first class event that addresses the needs of our industry. I am looking forward to another fantastic show in 2017."
By the end of the show, AWFS had already received 2017 booth commitments totaling 24% of the entire exhibit space sold for the 2015 Fair, which represented a record amount of onsite exhibitor booth sales for any event in its history.
North America's largest and most important woodworking event in 2015 was bigger and better and brought together the global industry for an in-depth review of new developments and advances that are driving the secondary woodworking market and featured the most innovative technologies, products, and services.
The show offered a place to explore upcoming trends, the latest in technology and services, and see everything in action up close and personal - something organizers have dubbed the ultimate 'try-before-you-buy' opportunity.
And there were numerous opportunities to learn from the pros, both at exhibitors' displays as well as from the experts that shared their knowledge through the extensive education program organized by the College of Woodworking Knowledge.
The education program offered some 50 expert-led seminars, demonstrations, workshops and panels as part of this year's AWFS Fair.
AWFS surpasses expectations
Numerous exhibitors have said this year's AWFS was a great show for them and one that surpassed their already positive expectations.
"AWFS 2015 was the most successful show to date for Biesse America with more than 1,000 attendees from 750 companies visiting their booth for demonstrations on innovative technology from affordable, high quality entry-level machines up to the most technologically advanced solutions available for panel processing, solid wood manufacturing, plastic manufacturing as well as the production of non-ferrous metals and composite materials," the company says in a news release.
"Recognizing the lean and value-oriented needs of today's market, we showcased many new products focused on flexibility, productivity, and lowering operating costs and AWFS exceeded our expectations and was a record breaking show for Biesse America," says Federico Broccoli, president/CEO of Biesse America and Canada.
"The show has been one of the most active and rich in content and we have confirmed our commitment to the 2017 AWFS with increased space. We see more and more growth for this event to the caliber of a national one."
Cefla North America has also reported greater-than-expected results.
"We were pleased to see an increase of visitors, great interest in our entry level and complex automated solutions, and renewed enthusiasm from customers who visited our booth," said general manager Massimo Di Russo.
Success at the AWFS show is further evidence of an upward trend for the company – a trend also confirmed by the fact that Cefla North America has already exceeded its 2015 sales revenue goals. "Our dedication to increasing industry standards through superior engineered equipment and great performance value continues to invigorate our company," said Di Russo. "We were intent on delivering some of our latest technologies at the AWFS Show to demonstrate our commitment to customers and distributors who need hands-on knowledge of innovative, cost-effective finishing solutions."
AWFS Fair will return to the Las Vegas Convention Center, July 19-22. 2017.