Richelieu Hardware held its 3rd annual Trends Event at their offices and showroom in Mississauga on June 5, and more than 400 customers came out see the latest trends and innovative new products from North America, Europe and around the world
The event was organized for Richelieu's regional customers and the design and architectural communities and offered the first chance for many to see the latest designs - many first unveiled at the recent interzum 2015 - all in one place and close to home.
"The weather cooperated and we were able to put on a great event with more than 420 people attending," says Rick Hurst, industrial sales manager with Richelieu Hardware.
"It was fantastic, we had many local suppliers out to show their wares as well as some from Europe and the U.S.
"We get many positive comments from people at these events so we are already planning another one for next June," says Hurst.
The Trends Event featured decorative hardware, lighting, kitchen solutions, decorative panels, particle boards, MDF, finishing products, hinges and slides, tools and much, much more.
Richelieu adds Panasonic Housing Solutions to its product line
Also at the Trends Event, Richelieu Hardware announced it has just secured the exclusive North American rights for Panasonic's Housing Solutions and that it will be rolling out this latest addition to its extensive product line-up in short order.
Not surprisingly, most North American customers have never heard of that aspect of Panasonic's business.
In Canada and North America Panasonic is mainly known as an electronics company specializing in televisions, cameras, air conditioners and some appliances, but that is about to change.
In its home market In Japan and several Asian countries, Panasonic has been selling a wide selection of products for the home for years, everything from appliances, flooring, and much, much more.
And now - with this new initiative - Panasonic Canada and Richelieu will be bringing Panasonic's global expertise and products related to housing solutions to the Canadian market.
Panasonic has more than 50 years of experience and know-how in creating comfortable home environments including state-of-the-art designs and technology as well as smart storage solutions and now Canadian and North American customers will have access to these innovative solutions as well.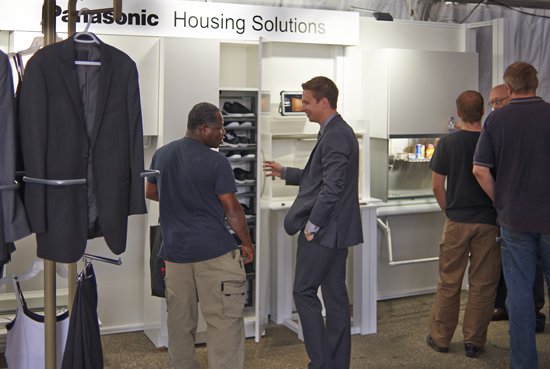 Richelieu adds Panasonic Housing Solutions to its product line.