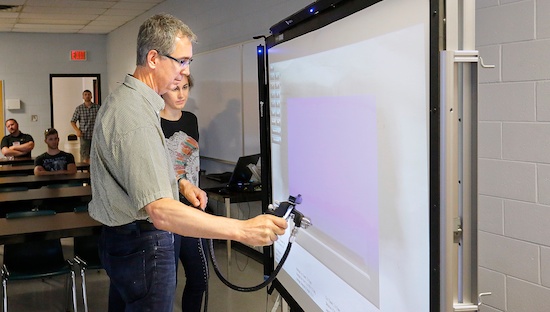 Photos: Woodworking
Former CKCA president Jake Wolters gives virtual finishing a try during CKCA's tour of Conestoga College's Woodworking Centre of Ontario.
More than 75 members participated in the Canadian Kitchen Cabinet Association's second annual Regional Meeting in Waterloo, Ont. recently.
The two-day event held June 22-23, featured several shop tours, guest speakers and time to meet with other industry professionals, colleagues and friends.
The event started off on Monday morning June 22, with a tour of DJ's Handcrafted Solid Wood Furniture Inc. The company, which has been in business since 1989, is a manufacturer, wholesaler and retailer of quality hardwood furniture. Their Wroxeter location has more than 12,000 sq. ft. of manufacturing and showroom area and a new retail location in Hanover opened towards the end of 2009. The company also recently updated its production technology to CNC and uses only water-based finishes.
Participants then returned to the Crowne Plaza Hotel in Waterloo for lunch and a guest speaker who talked about the importance of succession planning.
Following lunch the event continued with a tour of Chervin Kitchen and Bath.
Chervin is a complete custom kitchen cabinet manufacturing company located in the small town of Hawkesville, Ontario, in the heart of Waterloo County. The company has showrooms in St. Jacobs and Parry Sound.
Chervin Kitchen and Bath has recently implemented the Biesse Winstore - an integrated system combining the ability to manage & optimize panel inventory as well as capacity to automatically feed multiple machines. Both nesting and sizing cells significantly increase productivity.
In the evening CKCA members enjoyed a reception and dinner at The Museum in Waterloo, which included a visit of the galleries and another guest speaker who talked about the benefits of continuous improvement in the kitchen cabinet sector.
Following breakfast on Tuesday, participants drove to nearby Guelph for a tour of Barzotti Woodworking Ltd., one of Canada's leading manufacturers of quality custom cabinetry, furniture and commercial millwork.
Barzotti Woodworking's head office features a large showroom, offices and a 110,000 sq. ft. manufacturing facility in Guelph, Ont. The company has additional showrooms in Toronto, Hamilton and Rochester, N.Y. Tour participants saw a wide variety of manufacturing techniques, from experienced craftsman utilizing manual skills to the latest in state-of-the-art automated equipment and production lines.
Members then returned to Waterloo for a tour of Conestoga College's Woodworking Centre of Ontario, to see the Woodworking program, its facilities and the equipment used to deliver various woodworking courses.
Conestoga's Woodworking Technician program is delivered at one of the most advanced woodworking training facilities in North America. Students receive a solid foundation in the skills and technology involved in the manufacture of furniture, cabinets and architectural millwork and training in modern manufacturing techniques.
As part of the tour, participants also had a chance to try their hand at finishing, thanks to Conestoga's virtual finishing technology used as part of their courses.
The regional meeting finished off with lunch at the Doon Valley Golf Course.
The third and final CKCA Regional Meeting will be held Sept. 20-22 in St. John's, Newfoundland. Details will be announced shortly.