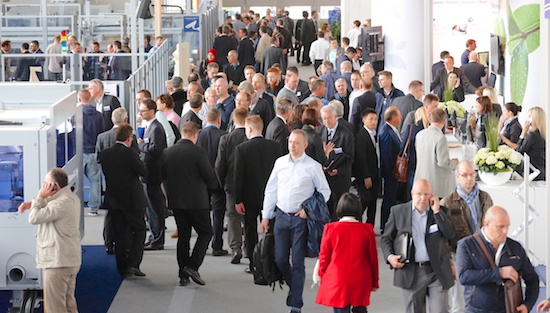 Photos: Woodworking
A total of 96,000 visitors attended LIGNA 2015.
LIGNA 2015, which drew to a close in Hannover, Germany on Friday, May 15, was an outstanding success for all parties concerned, featuring an impressive array of innovative technologies and production scenarios, large-scale machinery and the rapid strides made by Industry 4.0 in the woodworking and wood processing industry.
"Exhibitors here presented their latest innovations to a global audience, clearly demonstrating the new, high standards of communication between people, machinery and smart workpieces in the furniture and wood industry," said Dr. Jochen Köckler, a member of the Managing Board of Deutsche Messe, in charge of LIGNA.
"Pioneering new technologies are the key to success for joiners and cabinetmakers, putting integrated manufacturing within their reach."
Köckler also said the outstanding success of the event cemented its leading status worldwide. A total of 96,000 visitors attended the fair, including approximately 40,000 from outside Germany.
Some 1,567 exhibitors showcased their leading-edge solutions, technologies and innovative production equipment on over 120,000 square meters of display space. There was a clear focus on integrated, high-efficiency manufacturing. The new Wood Industry Summit was an instant success, and the new 'Surprisingly Versatile' theme also received a lot of attention.
This year's LIGNA struck a chord among exhibitors and visitors for outstanding international participation, impressive innovation and a further increase in top-executive attendance, Köckler said.
Wolfgang Pöschl, CEO of the WEINIG Group and chairman of the German Woodworking Machinery Manufacturers' Association, said this year's LIGNA "has more than met our expectations, which were high to begin with. It has once again generated even more momentum in an already positive market environment, and demonstrated the potential that new technologies hold for everyone in the wood industry. This is precisely what our customers from around the world expect from their flagship fair."
Outstanding international turnout
96,000 trade visitors attended LIGNA to witness the latest innovations and place new orders. Around 40,000 of these visitors were from outside Germany (as compared with 32,800 at the previous show in 2013). The top visitor nations were Austria, France, Italy, the United States, Great Britain, Russia, Belgium, Poland, Sweden, China and Brazil. The percentage of professionals in attendance rose again, from 94 percent in 2013 to 96 percent this year.
Attendance from Asia also increased considerably and an increase of 86 percent was noted for the near and Middle East. An increase of 62 percent was registered for South, East and Central Asia and the show also attracted more visitors from South and Central America.
"For anybody interested in doing international business, Hannover was clearly the place to be. More than 25 percent of trade visitors here were either planning to place orders at the show or had already done so," said Köckler.
LIGNA reflects rapid strides made by Industry 4.0
Live demonstrations of furniture production in simulated factory settings were right on target for LIGNA visitors, offering them a first-hand glimpse of the benefits of integrated manufacturing. There was also a wealth of information to support attendees in their future purchasing decisions, with exhibitor presentations focusing strongly on the aspects of flexibility and economic efficiency. The new ideas for customized mass production featured at this year's LIGNA will set the agenda in the woodworking and wood processing sector for years to come.
"LIGNA 2015 was once again a complete success for us. Our customers were delighted," said Rüdiger Schliekmann, managing partner of IMA Klessmann GmbH in Lübbecke, Germany.
The solid woodworking displays featured a wealth of new technologies and efficiency-boosting innovations. Here too, the spotlight was on integrated manufacturing, with exciting new technologies paving the way for substantial cost reductions.
Integrated manufacturing was clearly a hot topic for companies of all shapes and sizes. LIGNA also featured displays of innovative solutions for efficient manufacturing processes among joiners and cabinetmakers.
"LIGNA once again confirmed its reputation as the industry's leading global tradeshow, with an unrivaled depth of international participation. This is the platform of choice for displaying our innovations," said Hansjörg Felder, general manager of Felder KG, based in the Tyrolean town of Hall, Austria.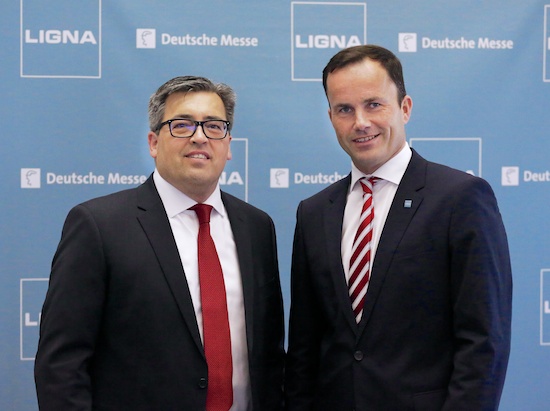 Dr. Bernhard Dirr and Dr. Jochen Köckler at the closing press conference.
New Industry Summit a success from the outset
LIGNA's status as an international networking hub for the industry was further enhanced by the Wood Industry Summit. With its mix of discussion and presentations, the summit proved an instant hit with its target audience.
"The Wood Industry Summit enabled us to enhance and expand our network of international leads across the board," said Tuomo Moilanen, of Ponsse Plc, based in Vieremä, Finland. "At the Summit we definitely met our goals. The high ratio of international visitors at LIGNA is the event's unique selling point from our point of view.
Köckler added: "In collaboration with our technology partner, the German Forestry Council (KWF), we successfully used LIGNA to put large equipment manufacturers in touch with visiting delegations from around the globe."
'Surprisingly Versatile'
LIGNA concentrated on a completely different aspect in the special presentation entitled 'Surprisingly Versatile.' Here the main focus was not on wood; instead, exhibitors showcased the flexibility of their technologies for dry-machining many different kinds of materials.
The displays ranged from plastic machining technology to equipment for processing alloys and composites. Professionals with backgrounds in interior finishing, building materials and the automotive industry made their way to Hannover to learn more about the special exhibit.
"We see even more potential for LIGNA here and will continue to pursue it," said Köckler, confirming the success of the new 'Surprisingly Versatile' campaign.
Every link in supply chain covered at LIGNA
For many years the 'LIGNA' brand has been synonymous with a broad spectrum of exhibits, covering the industry's entire supply chain. From the primary sector to woodworking and logistics, exhibitor displays during the five-day event explored every facet of woodworking and wood processing machines. In the words of Luigi De Vito, director of the Machinery Division, SCM Group: "This was a special LIGNA edition for SCM Group, which showcased a vast range of technology in each of the dedicated halls: from intelligent cell systems to advanced software suites; from joinery machines to working centers for the homebuilding sector, to technologies for surface finishing.
"It means making the best of all opportunities generated in the most important woodworking trade show. As worldwide specialists for the wood industry, we experienced great interest on the part of our global customers; this is true confirmation that LIGNA is the international, leading event in the wood industry that can't be missed."
The next LIGNA will be held May 22-26, 2017, once again in Hannover, Germany.