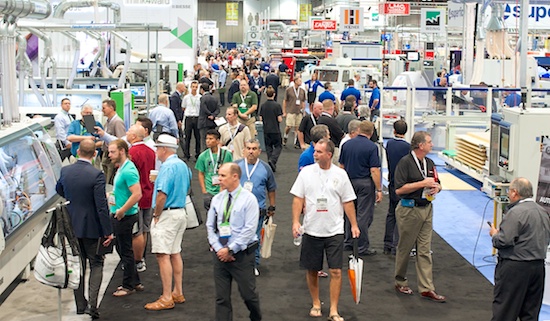 Photos: Woodworking
AWFS Fair 2015 is off to a strong start.

The 2015 edition of AWFS Fair, July 22-25 in Las Vegas, Nevada got off to a strong start Wednesday with early morning lines at ticket counters, busy aisles and a steady stream of attendees.
A number of exhibitors told Woodworking about solid traffic at their booths with expectations for even better things to come on Thursday, Friday and Saturday.
Organizers of North America's largest and most important woodworking event in 2015 have said all along that AWFS Fair will be bigger and better and a strong first day appears to prove them right.
The show features nearly 600 exhibitors and 130 first-time exhibitors as well as a sold-out show floor that is 20 per cent larger than the previous show.
"This is the most excited we have been about AWFS Fair since 2007. There has been a really positive vibe surrounding our show ever since our last event in 2013," Angelo Gangone, AWFS executive vice president told Woodworking in the run-up to the event.
"We have a show floor that is approximately 20 percent larger than the 2013 show (and 33% larger than the 2011 Fair), which is phenomenal growth over the course of a single show cycle."
AWFS brings together the global industry for an in-depth review of new developments and advances that are driving the secondary woodworking market and features the innovative technologies, products, and services that are transforming the industry.
There are three more days to go and explore upcoming trends, the latest in technology and services and see everything in action up close and personal - something organizers have dubbed the ultimate 'try-before-you-buy' opportunity.
And there are numerous opportunities to learn from the pros, both at exhibitors' displays as well as from the experts that share their knowledge through the extensive education program organized by the College of Woodworking Knowledge.
The education program is offering some 50 expert-led seminars, demonstrations, workshops and panels as part of this year's AWFS Fair. In four days, visitors can gain more new ideas and skills than they can get in a year on the job.
AWFS is of course also a great opportunity for professional networking and making connections with thousands of industry pros ready to discuss ideas, challenges, solutions and best practices.