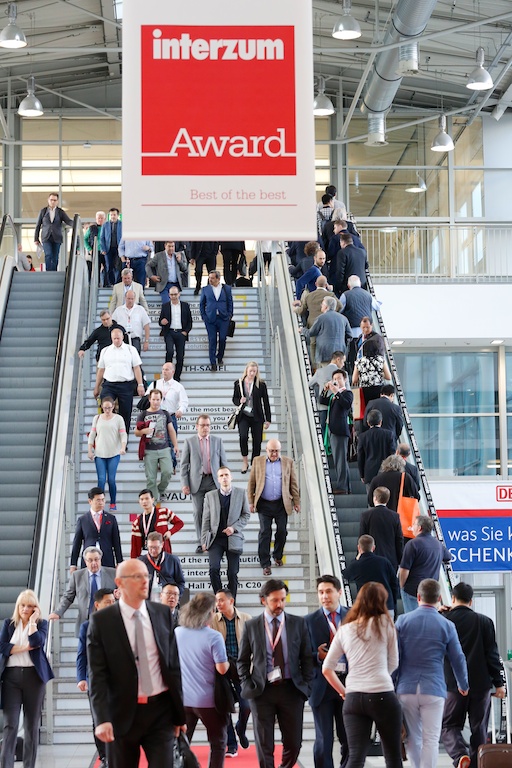 Photos: Woodworking
interzum 2015 attracts more than 57,500 visitors from 143 countries.

interzum 2015, held in Cologne, Germany May 5-8, delivered excellent results for exhibitors and visitors alike.
More than 57,500 industry visitors from 143 countries (an increase of 8.5 percent) made for an outstanding atmosphere at the exhibitor stands over the four days of the fair. This is extremely rewarding in light of a Germany-wide train strike, which was ongoing for the entire duration of the fair.
At very short notice, Koelnmesse organized a shuttle service from Frankfurt and Düsseldorf airports as well as from the East Westphalia furniture region.
The service was very well received and ensured convenient transportation for visitors to Cologne.
"The increase in visitors did not just reflect the appeal of the innovations and solutions showcased by our exhibitors but also emphasizes the importance of interzum for the industry. There is no other event in the world, which generates as much important momentum for this industry, in terms of both innovations presented and actual business conducted, as interzum does," said Katharina C. Hamma, chief operating officer of Koelnmesse.
With 41,000 visitors from abroad (an increase of 17 percent), interzum 2015 was once again a very international event. For one, there was a significant increase in visitors from Europe, from Italy in particular, as well in the traditionally strong showings from the UK, Spain, the Netherlands as well as from Poland. In addition, there was also a considerable increase in fair guests from Asia, particularly from China. Visitor figures from the USA (up 25 percent), South America (up 21 percent) and India (up 34 percent) also displayed an impressive upswing.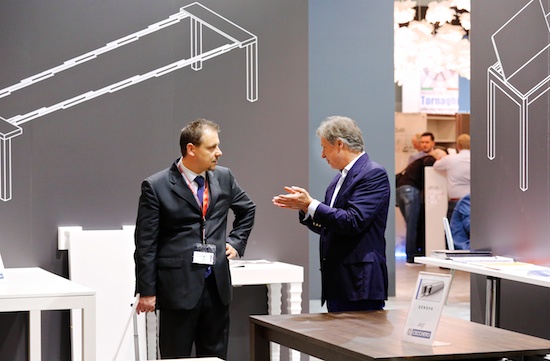 Hundreds of new products
There were hundreds of new products from all the important players, from fantastic new hinges and laminates to new smart phone apps and 3D printing that are sure to revolutionize the industry.
The breadth and innovation on display was impressive, please look for detailed reports on the latest products and trends in the next edition of Woodworking and online.
Organizers say the mood was very positive with a lot of business and networking getting done as exhibitors unanimously praised the event and the quality of visitors. And generally expectations are high for a lot of new business resulting from the successful event.
"interzum 2015 was great event for us," says Hettich's Dr. Andreas Hettich, and added that the number and quality of visitors was very good and that they are already looking forward to interzum 2017.
André Dorner of Blum Germany was no less enthusiastic saying the quality of business discussions was excellent and the trade fair was an excellent opportunity to impress visitors from around the world.
Claus Sagel, of VAUTH-SAGEL called interzum 'tops' and talked about a run on their stand during the length of the trade fair and that this year's event set a new standard for the company.
And Claudia Küchen of Schattdecor says interzum 2015 was a really positive show and the company is pleased with the number of quality visitors who stopped by, especially on Wednesday and Thursday, which were especially busy days.
The atmosphere at interzum was characterized by business and networking. The exhibiting companies unanimously reported excellent contact with representatives from all sales channels - at a very high level. This was confirmed by the preliminary visitor survey: almost 64 percent of visitors questioned said they were either sole or joint decision-makers when it comes to purchasing and procurement decisions within their respective companies. Based on the excellent atmosphere at interzum, post-fair business is generally expected to be good.
With 1,561 companies from 57 countries in attendance, not only were all the market-leading companies represented in Cologne, but also plenty of smaller, highly innovative companies. No trade fair but interzum hosts so many market and trend leaders presenting their innovations in furniture production, interior fittings and materials used, making it THE industry meeting place for decision-makers.
The next interzum will be held May 16-19, 2017 in Cologne, Germany.