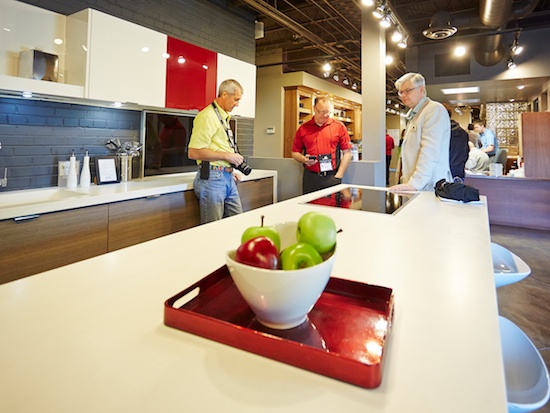 Photos: Woodworking
AWMAC members toured Superior Cabinets during the National Conference in Saskatoon.
AWMAC's National Conference at the Delta Bessborough Hotel in Saskatoon, Saskatchewan was a big success as more than 150 members as well as friends and family came together for three days of fun, business and relaxation.
It started out with golf at Dakota Dunes Golf Links on Thursday morning and was followed by a welcome reception and Partners Showcase in the evening.
The showcase and welcome reception were held in the stunning Terrace Room overlooking the gardens and South Saskatchewan River. AWMAC partners presented their latest products while members mingled for some product news and conversation, refreshments and a light dinner with friends and colleagues.
Friday started off with breakfast and a guest speaker, and was followed by business tours at FloForm Countertops and Superior Cabinets.
Superior Cabinets operates from about 50,000 sq.ft. and has offices and showrooms across Saskatchewan and Alberta with annual sales in excess of $45 million. AWMAC members got a chance to tour their impressive production facility and showroom and learn from team members about the different processes that help Superior Cabinets succeed.
The afternoon saw numerous business meetings as well as a Downtown Walking Tour and Riverboat Tours.
In the evening participants went to the Western Development Museum, 1910 Boomtown, for a cocktail reception, dinner and entertainment. After the return to the hotel there was another chance for some social time at the Hospitality Suite, which was open every night.
On Saturday, following breakfast and another business speaker, members assembled for the Annual General Meeting to deal with AWMAC business.
Following an authentic Ukrainian Lunch, participants had more opportunities for local tours or enjoy some free time and in the evening it was time for the President's Ball.
Carlo DeFrancesco of Green Valley Woodworking of Bolton, Ont. was named AWMAC's new president for a two-year term.

Below: Kasia Robinson of Linn Millwork Company and president of AWMAC's Saskatchewan Chapter, welcomes participants to the National Conference in Saskatoon Saskatchewan. Also some impressions from a successful event that offered a lot of variety to participants. And be sure to take a look at the Boomtown Boys, AWMAC's board, as they rocked the house during the dinner at the Western Development Museum on Friday night.