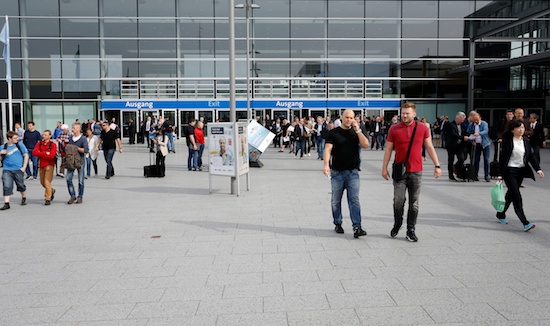 Photos: Woodworking
LIGNA will feature improved layout in 2017.
The next LIGNA, which will be held May 22-26, 2017, will feature a revamped, more visitor-centric layout of its main themes. The new structure will more accurately reflect today's LIGNA visitors' real-world situation. There is no longer a clear separation between skilled trade and industrial-scale operations, the choice of machinery is no longer driven by size or scale and the differentiation between solid wood and wood-based panels continues to disappear. The new fair layout will reflect the commitment of LIGNA's organizers to meeting the changing needs of trade visitors and to making the fair as efficient and productive as possible for visitors and exhibitors alike.
"LIGNA is the world's leading trade fair and innovation marketplace for the forestry and wood industries," said Dr. Bernhard Dirr, managing director of the German Woodworking Machinery Manufacturers' Association, at the closing press conference for LIGNA 2015.
"This new layout reflects market developments and brings key future-defining trends into sharper focus. The changes we have made will ensure LIGNA's market leadership well into the future."
The most notable change is the consolidation of three display categories revolving around processing technologies: Solid Wood Processing, Furniture Industry and Woodcrafts (skilled woodworking trades). These categories will now be combined into a new display category called "Tools and Machinery for Custom and Mass Production."
The reason for the change is that there is now an increasing overlap between the production technologies used by everything from small to industrial operations. From a machinery perspective, there is no longer a meaningful distinction between these two sectors – not even in Europe, with its long-standing and strong tradition of small craftsmen businesses. And for non-European exhibitors and visitors, the distinction never carried much meaning in the first place. Another reason is that many companies do not focus exclusively on solid wood or wood based panels, which has resulted in a broader range of machinery being offered by machinery manufacturers. LIGNA's new layout will also bring all the related technologies closer together, making it easier for solution-seekers to navigate the show.
"LIGNA's new site layout is going to maximize synergies by bringing complementary technologies closer together. Despite the fair's substantial size, visitors will find it easier and more efficient to navigate than ever before," said Dr. Jochen Köckler, a member of the Managing Board of Deutsche Messe, in charge of LIGNA.