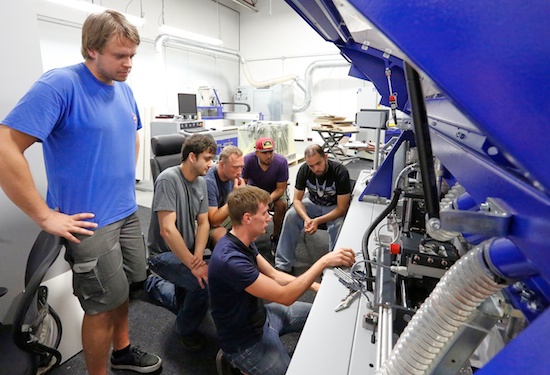 Photos: Woodworking
From left, Hannes Gasser, edgebander expert from Felder Group Austria, with Lee Tracey from Felder USA, Jude O'Reilly from the Calgary office, Tylor Green (on the machine) from Nanaimo, B.C., Jesus Rodriguez and Paul Aboui from Felder Group Ontario, take a closer look at the corner-rounding unit of the G680 edgebander.
Felder Group Canada hosted its second factory-training seminar of the year for some of its service technicians from across Canada and the U.S. recently.
The factory-training seminars are designed to keep the company's service technicians up-to-date with the latest technology with this session focusing on installation, set-up, repair and trouble-shooting.
This was the second in a series of regular sessions that continue throughout the year.
The week-long seminar consisted of classroom sessions as well as hands-on time with company experts on various machines and also provides an opportunity for technicians to talk about their experiences in the field and exchanges tips and ideas.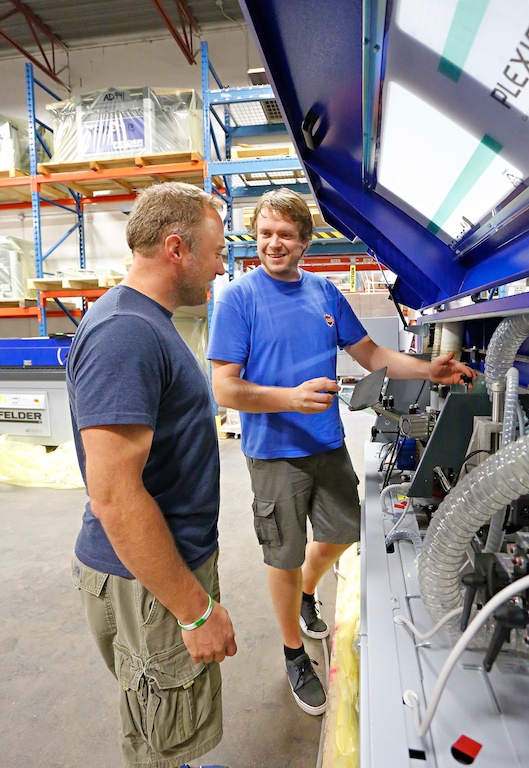 Jude O'Reilly from the Felder Calgary office, left, during a one-on-one session on a G460 edgebander with trainer Hannes Gasser from the Felder factory in Austria.