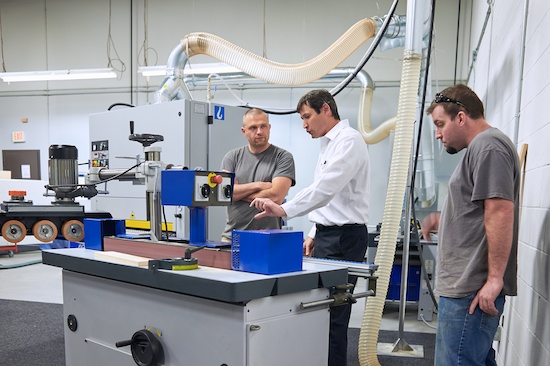 Photos: Woodworking
Dozens of customers came out for Felder Group's Spring Open House.


Felder Group Canada held a successful Spring Open House at their office and showroom at 1745 Meyerside Drive in Mississauga, April 16-18 and dozens of new and existing customers came out to take advantage of a showroom packed with a wide range of machinery all powered up and ready for demonstrations.
"We had a good event," said Andreas Gombaez, branch manager for Felder Group Canada. "We had more than a dozen machines under power, from our CNC and a wide range of edgebanders from small to industrial size as well as our wide-belt sander which was one of he main attractions of the event.
"We also made some sales - which is of course always welcome - and I also want to let everyone know that we will keep the machines in the shop for a few more weeks. So if you missed the open house, there is still time to come on by and take a look while everything is still powered up and ready to go.
"It's also a chance to see our dust collection system in action which is also fully operational.
During the Open House, opening hours were extended on both Thursday and Friday until 7 p.m., and on Saturday from 10 a.m. - 3 p.m.
The three-day event featured the latest production equipment from superior quality hobby machines to industrial automated excellence, including the FW1102 Classic - 43" wide-belt sander, FS900KF oscillating edge sander and the industrial-line of pre-milling edgebander, the G660; plus the G680 with pre-milling and corner-rounding unit.