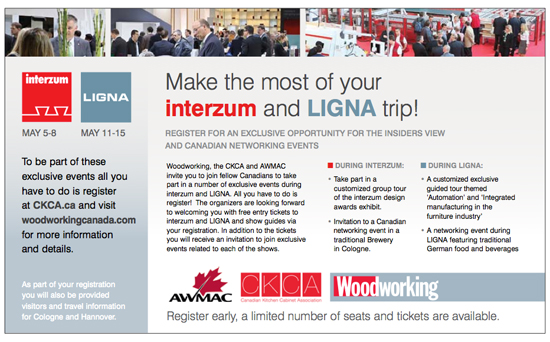 REGISTER FOR AN EXCLUSIVE OPPORTUNITY FOR THE INSIDERS VIEW AND CANADIAN NETWORKING EVENTS
Woodworking, the CKCA and AWMAC invite you to join fellow Canadians to take part in a number of exclusive events during interzum (May 5-8) and LIGNA May 11-15). All you have to do is register!
Your registration includes free entry tickets to interzum and LIGNA along with show guides for each of the events. In addition you are invited to join exclusive events related to each of the shows.
During interzum:
• Take part in a customized group tour of the interzum design awards exhibit on May 6th and join us for a Canadian networking event in a traditional Brewery in Cologne that evening.
During LIGNA:
On May 13th, join us for a guided tour focusing on 'integrated manufacturing in the furniture industry' and a networking event during featuring traditional German food and beverages.
To be part of these exclusive events all you have to do is register at www.ckca.ca. Complete details and event information will be provided upon registration.
Tickets and space are limited. Register early to participate.