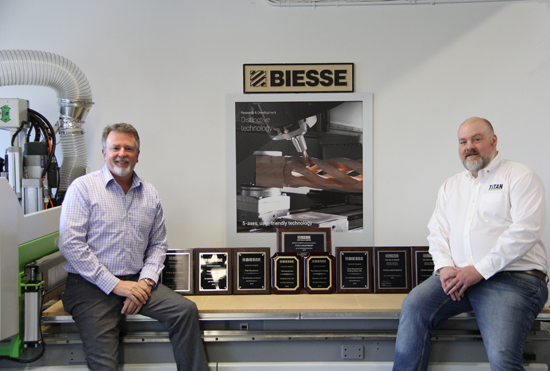 Photo: Contributed
Titan Equipment & Tooling's Russ Giddings, president, and Mike Warrington, CEO, show off some hardware.

Titan Equipment & Tooling has settled in nicely at their new offices and showroom in Surrey, B.C.
Partners Russell Giddings and Mike Warrington started Titan Equipment & Tooling in 2005 after being in the industry for 12 years working for a competitor. They immediately became a Biesse distributor and have been Canada's #1 dealer for Biesse for 10 years running and with more than 200 machines in the market.
The company moved into a new, 5,000 sq. ft. building last year to support its growing business and facilitate plans for a large, working Biesse showroom.
Titan specializes in advanced machinery sales and tooling applications and is a premier supplier for CNC machines and CNC tooling and related consumable items.
"We are in a brand new building and it took some time to get everything just the way we want it," says company president Russ Giddings. "But it has been a good decision and we are working hard to continue to serve our customers' machinery and tooling needs."
Their aim is to provide the manufacturing industry with high quality, reliable products that are easy to work with and offer great value. Titan Equipment takes pride in offering the complete range of machinery, tooling, and services.