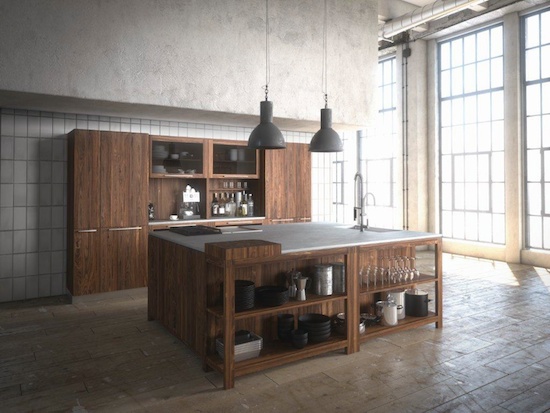 Handle-less drawers, wide fronts, slim design, sliding doors and natural finishes trending.
Photos: Koelnmesse

There is a clear trend in kitchen and furniture design towards modern and wide, fronts without handles and pure design that's lean and understated according to Werner Albrecht, Blum's market manager Canada.
"We are seeing a lot of clean and modern lines as well as a desire for individual styles, including inside the furniture. And clever fittings are essential to turning these concepts into reality for everyday use and ensuring they provide the desired convenience for many years to come," Albrecht says.
He adds that Blum already supports these trends towards fronts without handles by offering various motion systems – both on a mechanical and electrical basis. Systems designed to ensure easy opening of doors, drawers and lifts without the need for handles.
They also offer solutions for handle-less freezers, refrigerators and dishwashers so the whole kitchen can be designed completely without handles.
Hettich's Trends and Development report from LivingKitchen 2015 highlighted a number of different trends designed to bring a homier feel to the functional space of the kitchen.
The focus was on a natural look and authentic materials combined with colour aspects that turn kitchens into real stunners.
And wood is making a big comeback with wood and wood effects being front and centre in many display kitchens featuring a natural look.
Hettich also reports that fronts were finished in many different colours, from yellow and pink to turquoise, and dark materials combined with grey and mat shades are used to create a pleasant atmosphere.
Copper, brass and gold was found on taps, handles and in decoration making a strong visual statement and last year's trend towards more sliding doors continues strong as well.
Hettich's report states more and more sliding doors are being used in the kitchen as they are space saving and ergonomic, with a combination of open and closed cabinets being a popular option. Hettich offers a number of products to facilitate that trend, which is also being used to for hidden storage spaces and electrical appliances that are hidden behind large format, flush opening sliding doors.
Nadja Mann, president of GRASS Canada, says kitchen manufacturers are increasingly focusing on the inside of the cabinets with inserts and drawer designs playing an important part.
Of course GRASS already offers a number of popular design choices in its extensive product line and slim drawers such as Vionaro are getting a lot of attention.
Mann says white, grey and wood were the big colour trends while stone and imitation stone for fronts and surfaces were popular as was natural wood.
Gemütlichkeit
Other important trends seen both at Living Kitchen and imm cologne 2015 are about 'cosiness' or what the Germans call Gemütlichkeit.
According imm cologne's Trendletter, "cosiness has never been as cosmopolitan, attractive and unpretentiously modern as it is today.
"Even at the previous international interiors show imm cologne, furnishing brands were already interpreting the megatrend in its many different facets: cuddly accessories transformed huge beds into snug expanses, and since 2014 warm colours and soft textiles have been adding a sensuous feel even to straightforward interiors. And then there was wood, of course – lots and lots of wood, which continues to dominate the trend towards snug materials."
Black is back.
After a very long 'white phase' in interior design, black is back adding new accents to the colour scheme. Regardless of whether it's used with glossy or matt finishes, black is smart, neutral and looks great with other colours, according to the Trendletter. Surrounded by black furniture or fabrics, decorative items or other furnishings stand out particularly well – in fact, they almost seem to glow. And various shades of grey were in evidence as well.
"With all the ones and zeros that organize every aspect of our lives and supply our entertainment, we long for transparent, understandable manifestations of cause and effect. As a result, anyone who wants to make an impression or just live well surrounds himself with simple, but top-quality things such as classically designed furniture in solid wood, hand-hemmed covers and hand-upholstered sofas. It is no coincidence then, that, in the digital age, our fascination with mechanical clocks and watches is growing – timepieces that are made not with the greatest-possible efficiency but with the greatest-possible skill and plenty of time. As much as we are fascinated by the black box of digitization, we can't help wishing for a return to simple keys with proper teeth, for homemade bread and self-assembled shelves. Faced with the increasing virtuality of day-to-day life, tangibles are becoming a sensuous luxury and our appreciation of craftsmanship stands for the rediscovery of a world we can touch.
"Digital offerings for the networked home are booming: there are apps for adjusting the central heating, online solutions for keeping an eye on fire alarms, cameras, motion detectors and even personalised weather stations. But that's just the beginning: in House 3.0, every single room will be digitized. All the electrical appliances communicate with the owner's tablet or smartphone, the digital shopping list is linked with the online supermarket and the recipe generator knows exactly what food is available in the house and spits out a suitable recipe.
After years in which an unprecedented diversity of grey hues dominated, a blue palette that emerged last year was the first indication of a change in direction towards more colourful shades. Petrol and turquoise are still up-to-the-minute choices and are paving the way for new colour experiences."
According to the Trendletter: "Especially when it comes to home textiles and upholstered furniture, interiors are becoming more colourful again. A warm shade of orange is playing a leading role and can be found in all palettes, exuding anything from a sense of rustic nostalgia all the way to a younger, cheekier feel. It looks just as good with earthy, rusty hues as it does in fresh combinations with pink, powder and sky blue, pastel lemon and butter yellow. And various shades of luscious violet are a popular choice right now too."
Upcycling is also in fashion, according to the Trendletter – and when it comes to furniture, it's not just a sustainability concept but a genuine trend as well. Fuelled by the DIY movement of the last few years, this trend goes a lot further than simply reusing materials: entire elements such as drawers, bags, lampshades, leather jackets, carpets, chairs or night tables are being remodelled into new treasures for attiring both one's body and one's home.