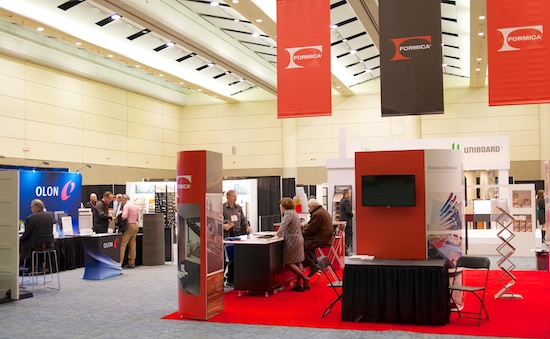 Photos: Woodworking
At the launch edition of the Toronto Wood Design Show.

Organizers and exhibitors of the first edition of the Toronto Wood Design Show April 9-10 say there were pleased with the event.
The show offered a tradeshow setting with forest product suppliers including laminate, melamine, flooring, plywood, fittings and industry organizations. In addition, numerous seminars offered prior to the show dealt with such topics as green alternatives, new trends and much, much more.
Bill Caine Jr., president Wood Design Show, says more than 620 people had pre-registered to attend the show
While actual attendance was lower, Caine says the event "was worthwhile for all the exhibitors to spend time with 335 industry people."
In fact several exhibitors said that while the show was not large, everyone that came was there for a reason and specifically interested in the products and service on offer. As one exhibitor put, "these were all serious customers and not tire-kickers."
Caine says he got good feedback with people commenting on a well-organized show and encouraging words to do it again.
"Ultimately we reached 335 more people than we had before'" he says.
The Montreal edition of the show attracted some 500 visitors and Caine says they felt 1,000 would be achievable for Toronto, but then this was the first time for the show and word about it hadn't really gotten out yet.
Future Wood Design Show evens are planned for Montreal in October 2016 and Toronto for Spring 2017.