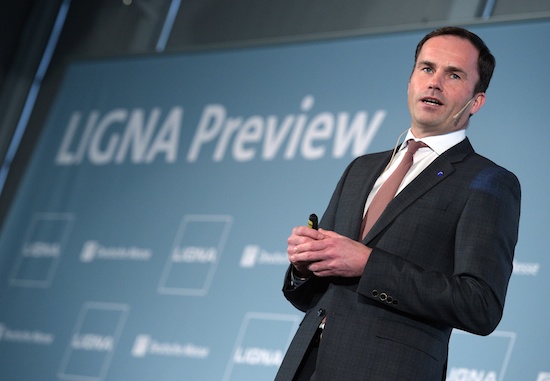 Photos: Deutsche Messe and Woodworking
Dr. Jochen Köckler introduced three key themes for LIGNA 2015.


At an exclusive preview event for the international press hosted by Deutsche Messe in Hannover, Germany show organizers presented an overview of what attendees can expect to see at this year's LIGNA.
More international business. More innovation. More integration.
Dr. Jochen Köckler, member of the management board at Deutsche Messe responsible for LIGNA introduced three key themes and initiatives for the upcoming show to be held in Hannover, May 11-15.
Integrated manufacturing for mass and custom production
is a key theme that will be highlighted at the event and specifically demonstrated by numerous major exhibitors who were also onsite for the preview showcasing some of their innovations for wood processing and manufacturing technology that will be unveiled during LIGNA. Advanced manufacturing technologies and integration of systems will be the focus of many displays under the Industry 4.0 theme - in essence a label for smart manufacturing or system integration in a connected world.
The second theme,
Surprisingly Versatile - processing of plastics, composites and other materials
will be another focus. Today's manufacturers in the industry encounter non-traditional materials on a regular basis. Machine and tooling manufacturers will exhibit products to address these challenges and will be prepared to discuss solutions.
This years' LIGNA is also premiering an exhibition and networking showcase for the forestry and primary wood processing market, called the
Wood Industry Summit
.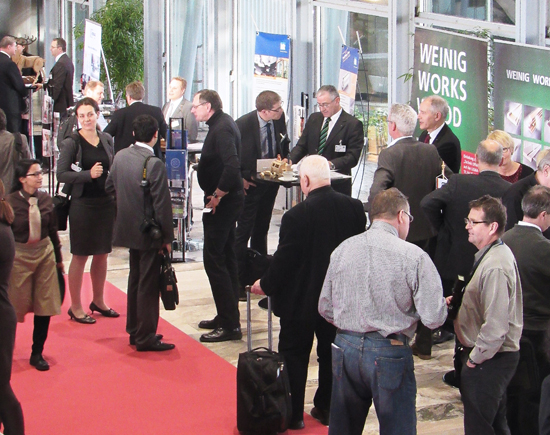 More than 20 leading manufactures were present to discuss their innovations that will be unveiled during LIGNA.
Wolfgang Pöschl, chairman of the VDMA's Wood Processing Machines Division (German Woodworking Machinery Manufacturers Association) and chairman of the Management Board of WEINIG A.G. presented an economic overview and forecast for the global machinery sector, predicting that the market remains positive overall while pointing to North America as an area of opportunity.
Additional insightful presentations supporting this year's LIGNA themes were presented by Professor Dr. Ing. Jürgen Jasperneite of the Fraunhofer Application Centre for Industrial Automation, Martin Brettenthaler CEO of Pravatax and Janne Märkälä.
More than 20 leading manufactures in the sector including Biesse, HOMAG, IMA, Leitz, Leuco, MAKA, WEINIG and Schelling were present to discuss their innovations that will be unveiled during LIGNA. Be sure to read more about these innovations in the March/April edition of Woodworking magazine.
LIGNA 2015 will feature more than 1,500 exhibitors from 40 countries hosting an anticipated 90,000 attendees.