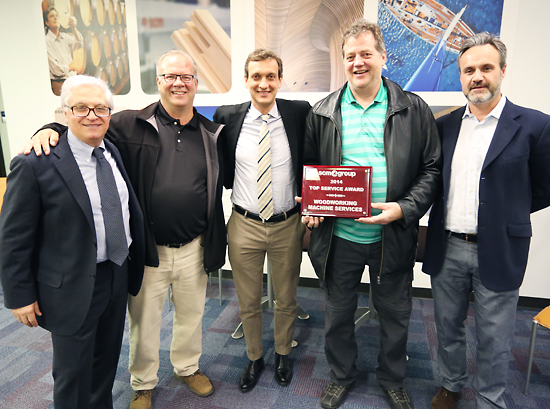 Photo: Contributed
Woodworking Machine Services Ltd. (WMS) of Western Canada with offices in Calgary and Vancouver has won an SCM Group North America Top Service Award as an independent dealer of the SCM product range who meets all of the criteria of servicing SCM customers in Western Canada. On hand for the award presentation were, from left: John Gangone vice-president SCM Group North America; Ken Dorbranski, president WMS; Giovanni Gemmani, president of SCM Group Spa, Italy; Ian Walton, vice-president WMS and Giuseppe Riva, CEO SCM Group North America.

SCM Group North America is investing millions of dollars for even better customer care - everything from improving existing programs to adding new resources and technologies for better and quicker service.
The company says it is spending $5.8 million (U.S.) over the next three years to deliver a better customer experience and that it is targeting all areas affecting customer care. SCM Group North America says their goal is to offer the best customer care at a competitive price.
Starting this year, customers will experience quicker responses to technical questions, easier access to more qualified field technicians, detailed and timely information related to the customers' needs supported by new technologies, software, tools and spaces dedicated to improve the customer service experience.
Additional resources have also been allocated to the parts department and they have created a new, global service platform to ensure that the vast majority of parts can be shipped within 48 hours.
In addition, SCM is creating a new web platform designed to make parts sourcing easier and quicker than ever before.
The company says it is committed to achieve these ambitious goals without a significant cost to customers. Free phone support for customers will continue and there a reasonable, annual flat fee of $480 (U.S. per serial number) ensures inclusive remote support/tele service (the machine must be connected to the network by the user). The fee also ensures software licences are maintained as per the liabilities and obligations required by the software houses. Of course all services are complimentary during the regular factory warranty period.