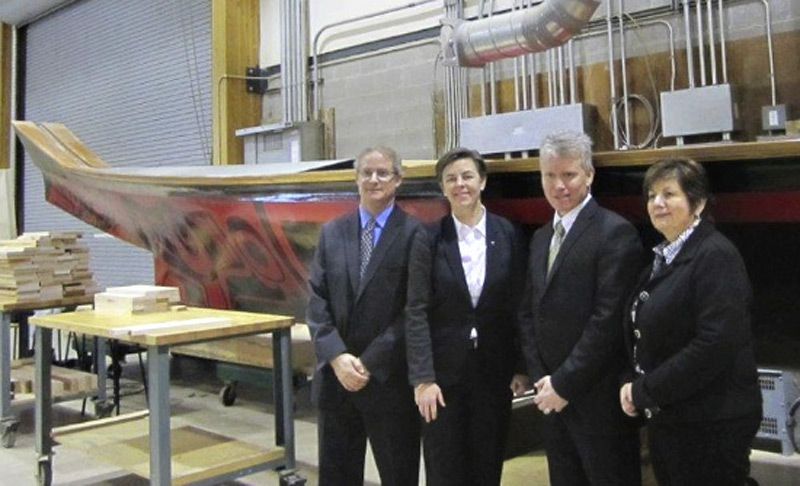 Photo: Contributed
From left are Richard Lipman, president of the Wood Manufacturing Council; Dr. K. Kellie Leitch, minister of labour and minister of status of women; Iain Macdonald, chair WMC and managing director of the centre for Advanced Wood Processing, UBC; Norma Ricker of WMC (project manager). During a tour of CAWP, participants saw a 53-foot Bill Reid canoe restoration project between Haida First Nation and UBC First Nations House of Learning.


The Honourable Dr. K. Kellie Leitch, minister of labour and minister of status of women, along with Nina Grewal, MP for Fleetwood–Port Kells, recently announced Government of Canada funding for a project to promote the advancement of women working in the Canadian woodworking industry through mentorship.
The Wood Manufacturing Council is receiving $298,788 for their project, which will create and test a sustainable mentorship model for women employed in the woodworking industry in Toronto, Winnipeg and Vancouver. Through this project, the Wood Manufacturing Council will work with local stakeholders to develop and share the model, which will be designed to meet specific needs identified by women working in the industry.
This project was selected through the Government of Canada's recent call for proposals entitled Economic Prosperity: Positioning Womenfor Success.
Quick Facts:

• Women have made gains in several sectors and professions where they have been underrepresented yet they continue to have low representation in the skilled trades, technology and science-based professions. For example, according to a 2010 Labour Market Update of the Advanced Wood Processing Industry, the participation rate of women in core positions in this sector is just 15%.
• Since 2007, the Government
of Canada has provided over
$153 million through Status of Women Canada for community- based projects. Federal funding of community-based projects through Status of Women Canada has nearly doubled since 2006-2007, supporting more than 750 projects across Canada.
• Since 2007, the Government of Canada has delivered more than
$60 million through the Women's Program at Status of Women Canada for projects that promote women's economic security and prosperity. Of this amount, more than $15 million has gone to projects that support women in skilled professional trades and technical professions.