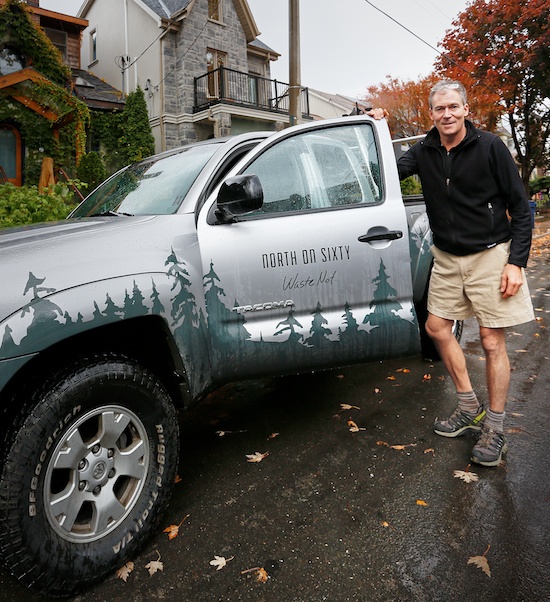 Photos: Woodworking
Yuill McGregor loves wood, from the tree in the forest to the finished product.

Yuill McGregor loves wood and he loves working with his hands.
And that's how he started his business, but today North On Sixty is about so much more than that, starting with the design to finished product and everything in between.
"We are vertically integrated, from the tree in the forest to the finished product and we are looking after everything we do from start to finish," McGregor says.
Born and raised in Toronto, McGregor says it took him some time to realize what he truly wanted to do with his life. He grew up in the city, but managed to 'get away' and work summers at his uncle's dairy farm in Nova Scotia. He also attended school there for two years. That was a great experience for him, it taught him about nature and about being 'handy' and how to work for a living. He learned a little bit about everything, from farming to woodworking, even engine repair.
It was a great basis for what was to come.
In high school he painted for a friend during the summer, but it was always back to school and eventually university, "because I really didn't know what I wanted to do, but I figured it would be good to have a degree," McGregor says.
But eventually halfway through his second year of university, McGregor says he realized that that kind of 'learning' environment was just not for him.
"I had always learned by doing and teaching myself and I knew I wanted to get back to that, I was way more interested in working with my hands and solving problems than the kind of book learning you get at university," McGregor says with a smile. Ironic since he's read more during his career then he ever would have attending university.
McGregor made the decision to quit university and went back to painting houses. As he was painting client's homes, he would notice things way up there on that ladder - a rotten soffit here, a window that needed puttying there, or a roof that needed repair.
"I told the homeowners about what I'd found and when they asked me if I could repair it, I said I could," he says.
"Of course I couldn't, but that didn't stop me. I went to the library a lot and took out books on whatever project I had gotten myself into," McGregor says. "This was more than 30 years ago, there was no Internet and no Google, and so I relied on these books to learn what I needed to do. After a while I just started buying the books because I was spending way too much time at the library."
It was stressful at times, but McGregor said he loved every minute of it. And because he was honest with his customers they didn't mind if it took him a little longer, they got a good price, the work was done properly and everybody was happy.
Over the years he went from painting, to small home repairs, to minor renovations and eventually big renovations. Today, North On Sixty does complete projects, big and small.
He also worked as a contractor with a lot of different people, from home- builders and renovators and eventually to architects and he learned from all of them. He also kept up his own 'studies' if you will and aided by a natural curiosity and voracious reading he learned so much that he is now the expert others turn to when they need a special project done right.
And as if that was not enough, McGregor's love of wood, especially old wood, which started some 25 years ago, turned out to be a perfect fit and dovetailed nicely with how the business developed.
McGregor started to salvage wood from old buildings and other structures and that love - or call it an obsession if you must, because he was so serious about it that he used his hard-earned money to buy a property just to store it all – continues to this day. That was before he even knew exactly what he wanted to do with all that wood, more than 100,000 board feet of lumber in all shapes and sizes.
Initially he had to pay other people to process it for him, but about 12 years ago he invested money into a sawmill as well as a complete wood- working facility to process it all in house. His wife Sylvie Turbide – his better half and partner in the business – supported his decision to use money they were saving for a cottage for the business. Now they can handle everything from custom architectural woodwork and custom kitchens to complete renovations and exteriors.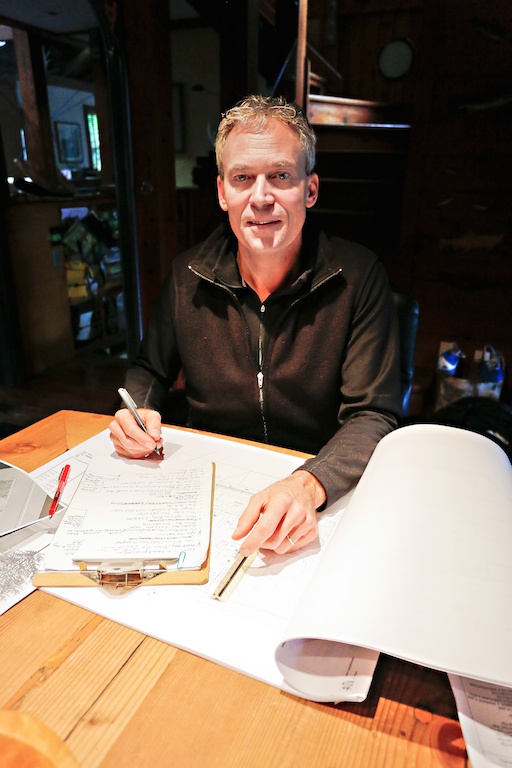 FROM START TO FINISH
North On Sixty spans the entire life cycle - from forest management, to design/build, to restoration, and everything in between. McGregor says he likes to be involved in every step, from start to finish, "because our philosophy is fundamentally holistic—and because we love it all."
And true to their motto 'Waste Not,' McGregor says ultimately, minimizing waste is about creating harmony between people and their environment—which is the guiding principle in all that we do."
North On Sixty has used wood from barns, farmhouses, warehouses, factories, plane hangars, bridges, and many other sources. All of their recycled and water-recovered woods have been sourced within 300 kilometres of their shop - located about halfway between Huntsville and Algonquin Provincial Park on Hwy. 60 - as have 90% of their woods from managed forests.
North On Sixty is a partner in the Eastern Ontario Model Forest Certification Program. The EOMF is certified by SmartWood of the Rainforest Alliance as meeting the principles and criteria for the environmental, economic and social standards of the Forest Stewardship Council® (FSC). And the company also owns its own 130-acre woodlot where the shop is located on the Oxtongue River.
McGregor takes great pride in the fact that they build products that won't have to be replaced. Top craftsmen using top-quality materials manufacture things that will last, which also goes right back to "Waste Not."
"Many of our design/build projects are also recognized for their ability to use space efficiently, allowing for a smaller physical footprint, and even use natural light more efficiently thus reducing energy consumption.
"And we do it all while respecting the land," says McGregor.
"In the construction of our shop, we positioned the buildings in a way that allowed us to keep all of the land's healthy, mature trees, and to heat our buildings we use an outdoor wood boiler to heat a mix of food-grade glycol and water, which then gets pumped through more than two kilometers of plastic tubing. The wood comes from managed forests, shop cut- offs, and our sawmills slab wood."
North On Sixty also keeps packaging to an absolute minimum and source-separate and reuse cardboard for the packaging going out. And, with the exception of the inevitable cut- offs from cabinet panel production, their entire operation typically produces less than one garbage bag per week.
Business has been good, but it hasn't always been easy. What business is?
One of the biggest challenges came right after they set up their woodworking and production facility north of the city. McGregor says after initially agreeing to run that shop, a couple of his key people decided they didn't want to be 'up there,' and quit. It was a major headache and meant McGregor had to work night and day to make sure everything wouldn't fall apart.
"It was a really tough time, I was working non-stop and I turned partially grey, but what doesn't kill you makes you stronger," he says. These days McGregor spends much of his time in Toronto where he lives with his wife and their two children. He has a home office – they are opening a dedicated office and showroom in the city next year – and also spends a lot of time with clients and on jobsites. But given a chance, he'll be just as likely to be at the shop working with wood or scouring around for more old lumber. North On Sixty now employs some 25 people and their numbers swell during busy summer months.
Most are located in Toronto where they are busy installing and building the custom projects that set the company apart.
A self-described 'green guy,' McGregor says that more and more customers are asking for the kind of environ- mentally conscious designs and projects that set North On Sixty apart from the rest.
Rather than build bigger McGregor wants to build it better.
"Rather than building bigger homes, I try to make people realize that they can be happy if they just use the available space better," he says.
"Many times, when a customer approaches me to build them an addition, I will show them alternatives such as making better use of the space they already have and most times that's what they will go with," McGregor says.
"There is so much more that can be done in smaller spaces, but many people just don't know how, they need someone to show them what can be done and once they see it then they believe it.
"And it pays to do that, doesn't it?" McGregor says.
"It means using fewer resources both in the initial construction and ongoing maintenance because you need less energy for heating, cooling, cleaning and maintaining," he says. "And ultimately it saves the environment because we are wasting less."
And in order to do it right, you need someone with the knowledge to point you in the right direction and that's where North On Sixty comes in.
"Like I said, we take great pride in our expertise and experience to see a project through from start to finish, from the initial concept and detailed plan - and from the tree in the forest - to the finished product," he says.
"We don't just do the design and the plan and then hire subcontractors, we do it all, from start to finish and we do it right. We stand behind our work and I've found over the years that's what matters most in business. Of course you have to have great design and great products, but you want to be trusted and that's what we aim for. It's our plans, our people and our guarantee."
"And we don't cut corners. For example, we are among just a few contractors who use an insulated concrete forming system for foundation work, It costs a bit more money, but it offers great insulation, efficient use of materials and thus a smaller environmental footprint and it is actually quicker," McGregor says.
COMPLETE
North On Sixty does as much or as little as the client requires. From kitchens, living rooms, bedrooms, bathrooms, furniture, accessories, decking, flooring, exteriors and professional offices or the home itself.
And everything they do is custom work generating little or no waste.
"We really feel good about what we do and how we do it," McGregor says, "and our clients appreciate it as well. All of our wood is procured from one of three sources, either from the bottoms of lakes and rivers, from the demolition of barns, factories and warehouses and other structures, or from managed forests.
"I had a great teacher who told me that everything is a finite resource, that it needs to be used for as long as it possibly can and then when it's finished being used its needs to be recycled. That has really stuck with me," he says
"Great design means there is nothing left to take away, it's a perfect balance between what's required and what's not needed.
"Our design team has more than 40 years experience and we combine that with old-world craft skills and modern Italian machinery to produce just the 'right' product, from heirloom quality solid-wood furniture that's designed and built to last forever to your perfect kitchen or study."
It's easy to see McGregor loves his job.
"I just love the variety of my job. Of course there are stressful days, but it's always interesting and unique, I have great employees and I work with and meet great people all the time, what more can you ask for."