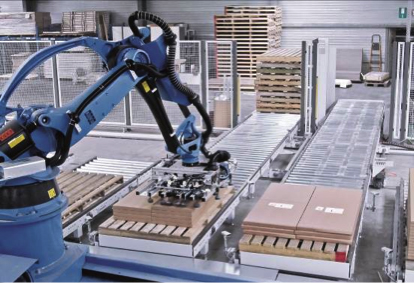 HOMAG Group forms HOMAG Automation.
The HOMAG Group has completed the merger of its subsidiaries BARGSTEDT Handlingsystem and LIGMATECH Automationsystem, to form HOMAG Automation.
HOMAG Automation will now offer a kind of one-stop shop for all things automation related, from material handling to assembly and packaging.
According to Andreas Grabe, HOMAG Canada's National Sales Manager, the merger will not affect their customers.
"Nothing will change for our customers, the only thing they will notice is that in time, the name on the machines will change," he says.
"Instead of BARGSTEDT or LIGMATECH it will say HOMAG Automation, but that's it. All your contacts and servicing will remain exactly the same as before."
According to the company, "the merger of the both automation subsidiaries is a milestone for the service support to our customers from one source. We are very satisfied with the course of the integration process."
The reason for the merger of both subsidiaries is the worldwide increasing demand in automation and robotics. The merger generates further capacity for future growth and the globalization of the five sectors storage systems, automation and robotics, buffer and collating systems, assembly technology and packaging technology.
The creation of HOMAG Automation has also resulted in the largest company in the sector.
Grabe added that the companies' production facilities will remain in Hemmoor (BARGSTEDT) and Lichtenberg (LIGMATECH), but the non-production departments will be combined for greater efficiencies.