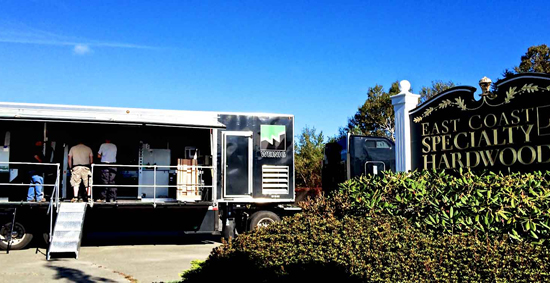 Taurus Craco Machinery going mobile.

Taurus Craco Machinery recently organized a three-week tour using WEINIG's mobile demonstration unit to take the latest technology right to their customers' door.
Dubbed the WEINIG Powermobile Mobile Tour, the event took advantage of WEINIG's mobile unit, a large, fully equipped tractor-trailer with machines under power that can rip and mould material on location and is complete with its own dust collection system.
"We visited about 25 customers from Halifax to Windsor," says Wes Love, president of Taurus Craco Machinery.
"It was very well received, people appreciated that we came right to them for a change and they didn't have to leave their shops."
The mobile unit features the latest state-of-the-art rip saw and moulder technology and brings it right to customers' shop. Among the customers they visited were:

• All-Wood Stairs Mfg. Ltd., Notre Dame, N.B.
• Future Doors Ltd. Notre Dame, N.B.
• Four Seasons MFG. Ltd.
• Shorewood Furniture Inc., Moncton, N.B.
• G.L. Sawmill Ltd. Shediac, N.B.
• Glenwood Kitchens Ltd., Shediac, N.B.
• East Coast Specialty Hardwoods Ltd. Halifax, N.S.
• Nova Wood Products. Lunenburg, N.S.
• Laurysen Kitchens Ltd. Ottawa, Ont.