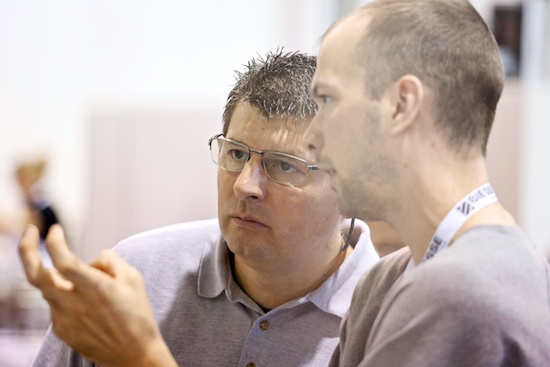 At Biesse Canada's Fall One2One in the Toronto area.

Biesse Canada put on its popular Fall One2One event Oct. 23-24 at its Toronto-area showroom and offices in Mississauga.
The One2One Open House, held only a few times a year in the U.S. and Canada, was a place for industry professionals to exchange ideas, gain hands-on experience with Biesse's cutting edge technology, as well as consult one-on-one with Biesse's product managers, each with more than 20 years experience in the woodworking industry.
The One2One event featured the latest machine line-up and showed woodworking professionals how Biesse technology can increase their production and improve their bottom line.
"We had a great event, almost 50 companies and close to 80 people attended over the two days," said Matt Fleming, Biesse Canada sales manager for Ontario and Western Canada.
Also, as part of the event, Biesse and REHAU joined together to present a special workshop focusing on high gloss.
This free workshop gave attendees valuable insights into easy ways to create a high-end product without the high-end price tag.
Biesse's AirForce system allows companies of all sizes access to invisible glue line quality achieved by laser edges without the need of a complex and expensive laser system.
"It's always difficult to predict what will happen, Friday morning was pretty quiet," Fleming said, "but then we were busy in the afternoon and Thursday night's event and seminar with REHAU was very well attended. We also managed to sell a couple of machines and the people I talked to all said they were quite busy, which is a good sing for the entire industry.
Biesse will hold another Fall One2One Open House at their offices in Montreal on November 6-7 as well as in British Columbia early in December.