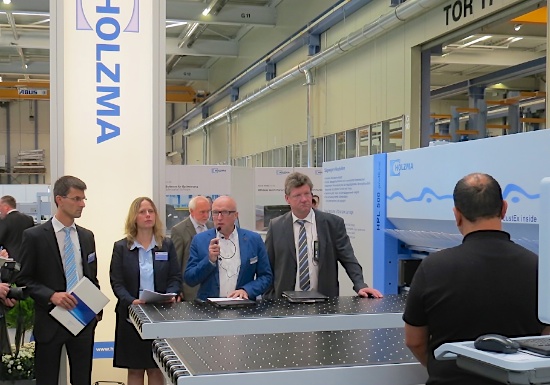 Photos: Woodworking
HOLZMA Product Manager Martin Kress, centre, and Darko Zimbakov, far left, head of R&D at HOLZMA, talk about the new 5 series.
The HOMAG Treff and HOLZMA Treff were held Sept. 23-26 at the companies' headquarters in Germany to show off the latest trends and technologies during large in-house technology days featuring everything from product demonstrations to seminars.
HOAMG says a single entry-level machine can develop into a compact and networked production system and the HOLZMA & HOMAG Treffs - which saw everyone from carpenters, production managers and business partners from woodworking companies all over the world attend - visitors had an opportunity to learn more about the relevant technology, software and services, as well as market trends, production methods and innovations.
Among the highlights was HOMAG Automation, a new brand combining the best from BARGSTEDT and LIGMATECH to develop intelligent solutions for effectively interlinking processing machines. The resulting solutions ensure an efficient production flow, encompassing assembly and packaging.
HOMAG Automation provides the link from high-performance individual products to complex process linking. From series production to batch size 1, this is HOMAG Automation's new approach for optimal material flow regardless of company size thus "making cost-efficient production a reality."
At the HOLZMA Treff, the new and improved 5 series was one of the event highlights promising the latest in cutting-edge technology.
The high-end model has always offered impressive stability, precision and performance and the new 5 series offers big improvements especially in the area of dust extraction at the saw as well as a significant improvement in ease of maintenance and servicing.