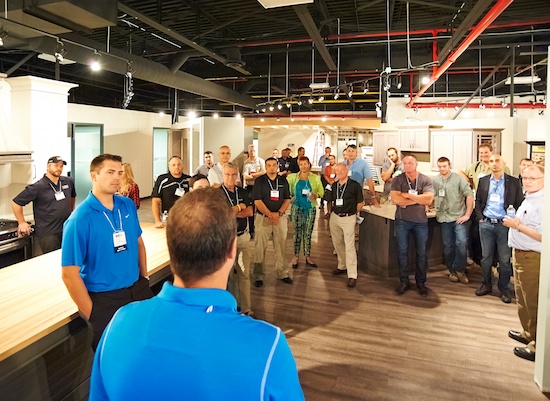 At GCW Custom Cabinetry in St. Thomas.

Members of the Canadian Kitchen Cabinet Association met in London, Ont. for their third Regional Meeting Sept. 8 & 9.
The event kicked off Monday afternoon with a tour of Labatt Breweries, followed by dinner at the Windermere Manor, which included a special presentation by George Lightfoot - The Power of Social Motivational Needs.
On Tuesday, the more than 60 participants enjoyed a networking breakfast at the Delta London Armouries Hotel followed by shop tours and an afternoon of golf.
The breakfast meeting included a certification presentation by Sepp Gmeiner of Lignum Consulting, who talked about the importance of implementing a standard for CKCA members to set themselves apart from the competition.
Not unlike Ontario's 'Foodland Ontario' or the 'Woolmark' logo - both of which are widely recognized and generally accepted as representing a quality product - Gmeiner said CKCA Certification will be a stamp of approval that stands for quality and value.
"This will be good for customers and it will differentiate your kitchens from those that are not certified," said Gmeiner. AWMAC and KCMA (Kitchen Cabinet Manufacturers Association) have standards and he said CKCA's Certification program will strengthen the industry.
CKCA President Jim Lawrence of Avondale Kitchens, told Woodworking earlier that the question really shouldn't be "why kitchen cabinet manufacturers would become members, but why wouldn't they."
Until the Certification Program was introduced, kitchen manufacturers in Canada could only rely on their own promises and marketing to convince customers they should buy from them. But now they can point to a Canada-wide stamp of approval that guarantees that they deliver a quality product, a product that will stand the test of time, a product worth buying over cheaper and lower quality imports or other uncertified cabinets.
Rick Hurst, CKCA board member and industrial sales manager with
Richelieu, told members at the breakfast meeting that CKCA Certification was developed on the simple premise that 'Canada builds a better cabinet.'
Gmeiner added that certification is affordable at an average cost starting at less than $3,000 and to think of it as an investment into your business and set yourself apart from the competition, he said.
Will Holsappel of Windmill Cabinet Shop, who looks after CKCA's Certification Committee, said the great thing about certification is that it is a recognized standard and the result of unbiased, third party testing. And it means the CKCA is guaranteeing the construction and materials used in members' products and that is a real benefit when it comes to marketing your products.
"We are still in the very early stages of the process, but several members are already certified and I know of at least five, ourselves included, who have begun or are about to begin the process," he said.
"And we have now brought Sepp Gmeiner on board to assist us, it's always good to have a fresh set of eyes to take a look at what we are doing and we will benefit from his expertise."
Holsappel said it's only been a few months since they really started to get the word out about certification and he is hopeful it's just a matter of time until they reach critical mass among CKCA members. And once members are certified it will go a long way to show and tell others about the many benefits.
"We will also update the process on a regular basis to keep it current, that means it will be an up-to-date standard that tells our customers they are buying a quality product, built with quality components and using proper construction methods.
Following the breakfast, the group toured Hanwha L&C Surfaces in London, a leading quartz and acrylic counter top manufacturer, and continued to GCW Custom Cabinetry in St. Thomas for a tour of their new facility. The event wrapped up with lunch followed by golf at Forest City National Golf Course.
And coming in January 2015, CKCA will again hold its big annual meeting - the National Forum - in Las Vegas, Nevada to once again coincide with KBIS & IBS.