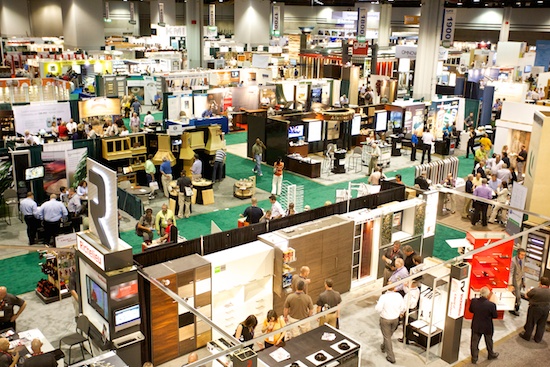 IWF featured more than 900 exhibitors.
This year's edition of the International Woodworking Fair in Atlanta started off strong on Wednesday, Aug. 20 and that trend continued right through to Saturday, Aug. 23, which means this year's show is well on track to far outpace the 2012 event.
Final numbers were not yet available, but with more than 900 exhibitors and strong crowds on the show floor, organizers and exhibitors were pleased with the turnout.
"Everyone was looking for a good event," says Jim Wulfekuhle, IWF's vice president sales & marketing.
"And with 23 per cent more exhibitors and increased exhibition space over our last show we were able to deliver a show that had something for everyone and every budget."
There were visitors from more than 60 countries and all 50 states and Wulfekuhle says they had also organized about a dozen trade delegation that have booked tours at the show and "those represent serious customers, which usually translates into good and solid business opportunities for exhibitors."
IWF Atlanta is the largest exhibition for the industry in the U.S. and features machinery ranging from robotics, CNC's and advanced material handling to tooling as well as the latest in finishing equipment, hardware, flooring and countertops, software and supplies and much, much more.
"We were up across the board with more exhibits, more products and more attendees," says Rick Hannigan, IWF 2014 chairman and director of marketing for Weinig/Holz-Her.
"Both attendees and exhibitors were very positive about the size, presence and enthusiasm surrounding IWF 2014," says Hannigan.
"Suppliers contracted for more space and the show had more than 100 new exhibitors."
He says attendees were very interested in obtaining information on new products and technology and they were especially interested in any ideas that would improve their productivity and efficiency.
Hannigan added that attendance met projected expectations and exhibitors reported being very busy during the traditional high-traffic hours of the show.
"And the attendees and exhibitors we surveyed told us that the show was well worth the time and financial investment. Ideas and concepts gathered at this show will surely have an impact on the industry going forward."
Several exhibitors have said their show stands were busy and they also had good things to say about busy aisles and serious, quality customers ready to invest in their businesses again.
IWF also featured an expanded the educational component this year, with more than 50 educational sessions for manufacturing, marketing, business development, production, material processing non-wood, business management as well as six symposiums.
And on Aug. 21, after the show, show organizers held IWF America's International Reception (also known as Canada Night) with an open invitation to all Canadian show attendees who were invited to a special IWF reception just for them. Held right after the days' show, the event was a chance to relax after the busy day, enjoy free food and drinks and meet with fellow Canadians. A Latin American reception was also held on the same evening.
The show also featured the popular Design Emphasis student furniture design competition that saw students from across the U.S. compete for prizes.
The next edition of the International Woodworking Fair will be held Aug. 24-27, 2016.

At IWF America's International Reception (also known as Canada Night).