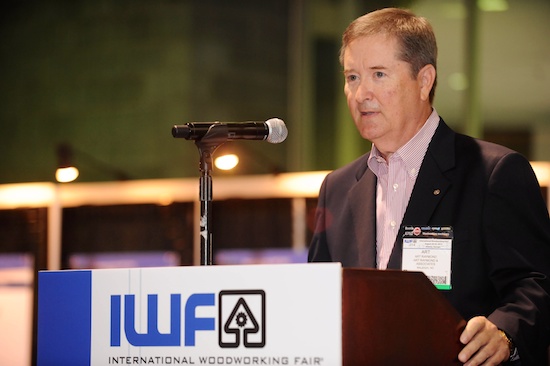 Art Raymond of Art Raymond & Associates presented the Challengers Awards.

The Challengers Distinguished Achievement Award was presented on opening day of IWF in Atlanta.
The award recognizes outstanding companies that have distinguished themselves by developing innovative technology in products, services, or manufacturing techniques that will advance the industry.
The seven winners of the Challengers Award announced on Aug. 20 at IWF are:
AikenControls won for its Ndepth 3D Sensor, which provides 3D color and depth measurement of lumber defects. AikenControls is a division of Aiken Development LLC.
Castle Inc. won for its Pocket Cutter/Screw Inserter. The machine speeds the drilling and insertion of screws, automating the simple style joint.
Graco won for its ProMix PD2K. The PD2K is a positive displacement proportioner for mixing wood finishes and paints.
Thermwood won for its Cut Center, a push-button, self-programmed CNC router that custom makes closets, furniture and cabinets.
Timesavers won for its Yieldsaver-24, a self-centering double-knife planer compensates for lumber with scant areas.
Weinig/Holz-Her won two Challengers Awards this year.
The first is for Holz-Her's Evolution Vertical Machining Center, a compact CNC that machines panels on all four sides. The company also won a Challengers award for the GluJet, a "melt-on-demand" adhesive application system for edgebanders with the appearance of zero-joint edgebanding.
The Challengers Distinguished Achievement Award promotes the development of innovative new technology in woodworking machinery, supplies, and services for the furniture, kitchen cabinets, architectural woodwork, store fixture, upholstery, or specialty and general wood product industries.
Sixty-one products from 45 companies competed in the 2014 competition.
A panel of eight distinguished judges, all industry professionals representing a broad cross-section of the industry, reviewed and analyzed each entry.