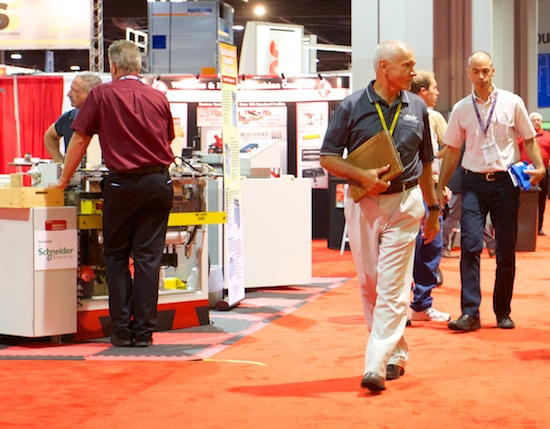 IWF Atlanta posts solid opening day.
This year's edition of the International Woodworking Fair in Atlanta is off to a strong start with good crowds and good activity organizers say.
Exhibitors and visitors are looking for a strong event," says Jim Wulfekuhle, IWF's vice president sales & marketing.
"And we are confident we can offer that with more than 900 exhibitors and a 13 per cent increase in exhibition space over our last show."
The International Woodworking Fair (IWF), runs Aug. 20-23, at the Georgia World Congress Centre in Atlanta, Georgia and if opening day is any indication it will be a good event for the industry.
Wulfekuhle says the 23 per cent increase in the number of exhibitors makes for an even more varied show this year, one that offers something for everyone and every budget.
"We have visitors from more than 60 countries and all 50 states and more than 500 Canadians have pre-registered for the show and we are expecting many more to actually come."
In addition there are about a dozen trade delegation that have booked tours at the show and those, says Wulfekuhle, are preselected, serious customers which usually translates into good and solid business opportunities for exhibitors.
IWF Atlanta is the largest exhibition for the industry in the U.S. and features machinery ranging from robotics, CNC's and advanced material handling to tooling as well as the latest in finishing equipment, hardware, flooring and countertops, software and supplies and much, much more.
Several exhibitors say they were impressed with the first day of the show and had good things to say about busy aisles and serious, quality customers ready to invest in their businesses again.