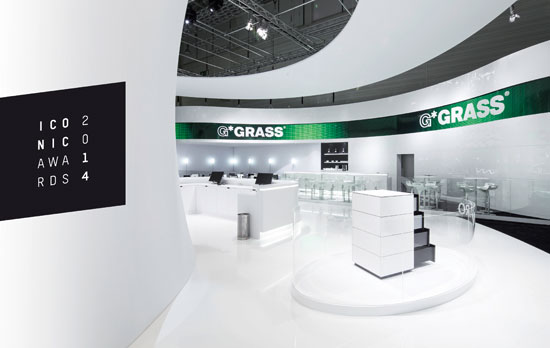 GRASS wins 'Iconic Award' for its corporate image at interzum. Following the 'ADAM Award' in November 2013, this is the second award for the trade fair stand.
GRASS' trade fair stand from interzum 2013, has received another award.
Following the 'ADAM Award', the display has now also been honoured with an 'Iconic Award' in the 'Architecture: Event/Exhibition' category from the German Design Council.
This marks another success for the 'Genuine GRASS: The Oval Room' trade fair concept, with which the movement systems specialist presented itself at the interzum trade fair in May 2013.
GRASS used the futuristic-looking trade fair stand at interzum as the perfect background to showcase the flowing movements of its systems. That impression of movement was further reinforced by the horizontal LED strip featuring the company's name/logo.