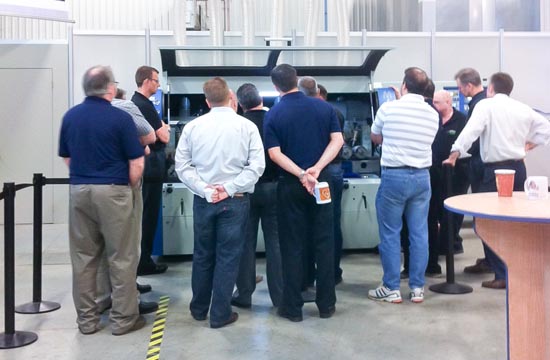 Photo: Contributed
Solid Wood Event highlights complete solutions.

HOMAG Canada held a Solid Wood Event at its St-Hilaire, Quebec showroom on June 6, to highlight the company's complete solutions for everything wood.
The event was also the official launch of their partnership with Kentwood for moulders, rip saws, grinders and chop saws, Makor for finishing, Tecnolegno for edge sanding and System TM for high speed wood optimization.
The recent purchase of Stiles Machinery by the HOMAG Group, means HOMAG Canada can now offer a complete solution for all solid wood and panel processing needs, and it also enables HOMAG's two North American divisions to harmonize their product offering.
The event was attended by Michael Chang for Kentwood moulders, Christian Vollmers, president of HOMAG Canada and Stiles Machinery, Chuck Carter from Stiles Machinery and Claudio Minocci from Makor.
The event was very well received with many customers coming out to see the latest products HOMAG has to offer.
It also featured machinery demonstrations on the Kentwood moulder, a Bütfering sander, a WEEKE nesting CNC, a HOMAG solid wood edgebander, a HOLZMA beam-saw and a HOMAG 5-axis CNC.
The special Solid Wood Event demonstrated HOMAG Canada's commitment to becoming a total solution provider for solid wood, just as it has been for panels for so many years.