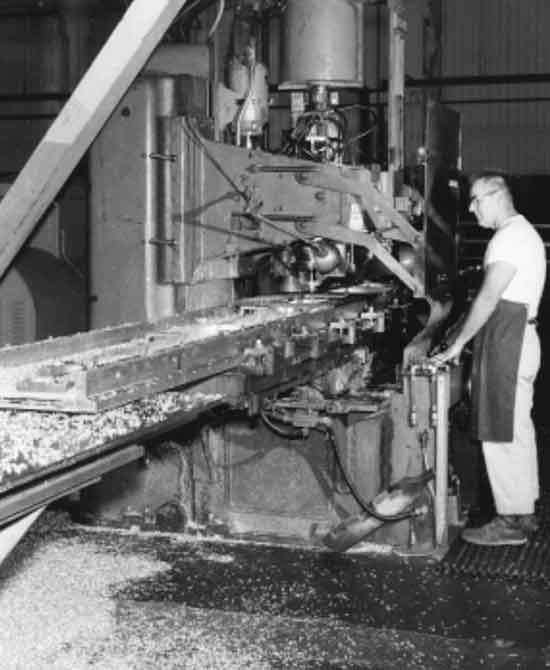 Onsrud is a name with a long history in the machining industry and 2015 is a landmark year for the Onsrud family as they are celebrating 100 years of in- novation.
In 1915, Oscar Onsrud and his son Rudy took woodworking to a new level when they invented their very first high-speed, air-driven spindle. This development replaced much of the existing belt-driven cutting and milling machinery, prevalent in factories of the day.
Since that day, the Onsrud family has become synonymous with routing.
Many aircraft built for the U.S. war effort in the Second World War had parts made on Onsrud routers and many M-1 rifle stocks built in the Springfield Armory were made on an Onsrud machine.
The grandson of Oscar, C.R. Onsrud founder Charlie Onsrud, worked many long hours in the old family facility in Chicago, Illinois where they manufactured customized machines for machining/building aircraft parts and much, much more.
Striking out on his own,
Charlie adapted the family cutting technology and know-how for the large, wood-manufacturing industry located in the Southeastern U.S.
He started with one machine, the inverted router; a machine is still sold today. As the opportunities to help streamline the production process and offer more efficient machines arose, his company grew by providing specialized machines for the variety of needs within the industry.
Driven by the same innovative mindset used by his father
and grandfather, C.R. Onsrud focuses on building tailored, application-based machines for quality-focused customers.
The 100 year, Onsrud family legacy of innovation began in
the heart of the Chicago machine industry and C.R. Onsrud continues to this day as a brand people know for offering speed, accuracy and innovative efficiencies in metal, composite, and plastic manufacturing facilities across the country.