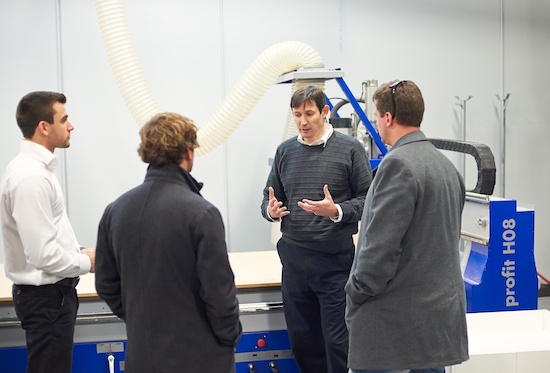 At the Felder Open House

Felder Group Canada held its Fall Open House at their offices and showrooms at 1745 Meyerside Drive in Mississauga, Ont. on Nov. 20-22.
Focusing on CNC box construction and edgebanding with pre-milling to simulate fast and accurate kitchen and cabinet production, the event attracted close to 100 new and existing customers.
"We had a really good event," says Josef Junker, Felder Group's export manager for Canada and Australia.
"It was one of the best Open Houses we've had and our CNC technology has been getting a lot of interest."
Junker says the Open House was an opportunity to develop and expand on existing alliances and contacts as well as talking to some new customers.
"It's always good when you can attract new customers, our CNC technology has been well received and getting a lot of attention and this event was a good opportunity to introduce them to the rest of the extensive Felder line of machinery as well," he says.
"We are very happy that new people are constantly discovering Felder, that is important for us to continue to grow the brand."
After an exceptional year in 2013, one that also saw the company expand its Ontario offices and showroom, growth continued in 2014 albeit at a more moderate pace.
"The year started out a bit slow – I think a long hard winter had something to do with that – but then it picked up quite nicely and we've managed to expand our business yet again," Junker says.
And there is more good news. Felder is planning to add two full-time sales associates in Ontario this year and they will also start hosting service and training classes for all of Ontario.
"We are in the process of organizing training here starting early this summer," Junker says.
"We will bring trainers right from Austria, to teach and update our technicians on the latest technology."
Service has always been important for Felder and is one of the reasons for their success. We have great machines and that's what our customers demand, but you also have to back that up with excellence in service, Junker says.
"That's why we have so many happy and returning customers, it's our after-sales care and support," he says with a smile as he points to a 30-year-old machine that's currently being overhauled in their shop. It still has all the original parts and even the motor is original, it's just here for a tune-up to guarantee many more decades of production.
"Our machines will last for a very long time and we continue to service them and that's all part of the Felder brand and what has enabled us to nearly triple our operations here over the past couple of years," Junker says.