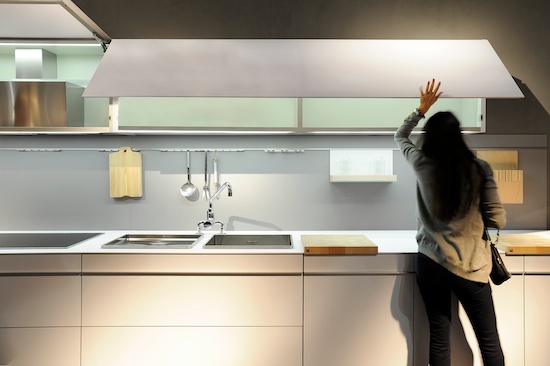 Photos: Carola Merello, EuroCucina
Natural colours and matte finishes dominated at EuroCucina.

In a dramatic change from the last show just a couple of years ago, white and glossy kitchens have been replaced with natural colours and matte finishes at EuroCucina - the International Kitchen Furniture Exhibition that is part of Saloni, held at the Milan Fairgrounds in Rho, Italy.
Every two years, EuroCucina brings together the top Italian and foreign manufacturers in one place where they offer up the latest ideas and solutions for living spaces that are both functional and ideal for spending time with family and friends.
This year's EuroCucina was held April 8-13, and featured more than 160 exhibitors occupying over 26,000 square metres of exhibition space. As the only major European event in the field, EuroCucina is considered the show to watch for future trends and a return to natural colours and matte finishes aligns with the minimalistic design that dominated this year's event.
Exhibitors showcased all the very latest in high quality, stylish and well-made kitchens, responding to renewed high demand for functionality from consumers passionate about cooking good food creatively.
"It was quite a bit different than at the last show two years ago when everything was white and glossy," says Kevin Tratt, President and General Manager at Blum Canada. "Textured and matte finishes were everywhere."
Equally popular as the new, more natural finishes, was the use of interior and accent lighting and sliding doors, says Rick Hurst, Industrial Sales Manager with Richelieu Hardware.
"The use of interior lighting of cabinets and drawers was everywhere, even in toe-kicks and countertops," Hurst says.
"Almost all the glass and glossy finishes are gone, instead we have a lot of matte metallic, dull stone and matte finishes."
See the next edition of Woodworking Magazine for more on EuroCucina and read Canadian experts' take on what impact this will have on our market.