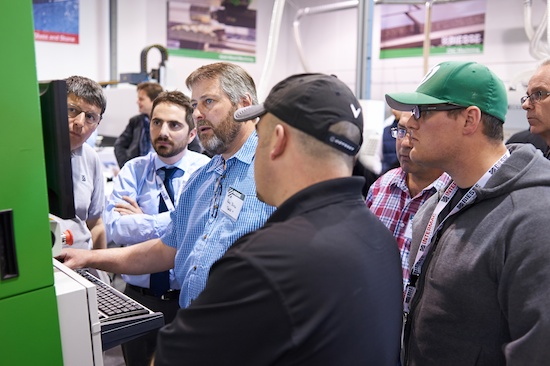 Dozens attend Toronto area one2one event.

Biesse and Intermac Canada held their Spring One2One event in the Toronto area recently and dozens of representatives from close to 50 companies attended.
Held April 3-4, at their new Greater Toronto Area showroom and service hub in Mississauga, Ont., the open house provided a chance to see the latest technological innovations and machines in action, talk to product managers and experts and meet other industry professionals. It was also a chance to learn about the latest industry trends, get advice on production techniques and talk to machine experts directly about the latest innovations as well as observe live machine demonstrations.
"We were very happy with the number of people who attended the event," says Matt Fleming, Ontario and Western Canada sales manager with Biesse Canada.
"We had people from some 46 companies come through the doors and a lot of them were here for the first time.
"We brought in our brand sales managers, our service manager and our local technicians to support the event," Fleming says. "And we will do the same for our next One2One event here, which will be held this fall, in October."
He says the highlight of this one2one event was the 5-Axis machine and the bSolid software program that continues to expand.
bSolid, Biesse's innovative software program, which was introduced or the first time at LIGNA, has now made its way to North America and allows users "to go from a concept to visual design of a part in just a few clicks."
"bSolid is evolving into a truly global software program and it will also transform into a nesting and cabinet program, we are very excited about it," Fleming says.
If you missed the Toronto area event, there is still a chance to attend the Montreal Spring one2one event, which will be held April 24-25, or upcoming events in Toronto and Montreal later this fall.