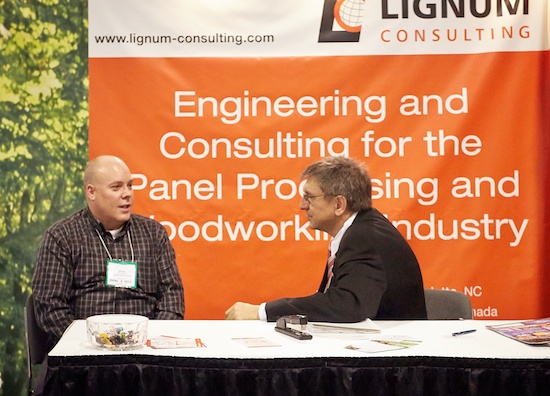 Sepp Gmeiner, right, at WMS 2013 in Toronto.

One of the big challenges facing the industry is the still-pervasive sense of uncertainty that is the result of an absence of any clear and unequivocal signs that the recession is in fact over.
That, and the fact that some companies continue to wait for things to get back to 'normal' - which is to say back to how they were before the crisis hit – are among the reasons why some companies are still having a tough time.
Here is the thing though. Things will never get back to where they were and as such the so-called 'sign' indicating the recession is over may never come. And if it does, no one will recognize it be- cause things have changed.
Actually, everything has changed, and anyone waiting for the 'good old days' may be in trouble.
This according to Sepp Gmeiner, a management consultant for the wood and panel processing industry. And Sepp Gmeiner knows woodworking.
In fact, his entire working life has been dedicated to the subject.
From his apprenticeship as a cabinetmaker in Germany, to his four-year studies at the University of Applied Science in Rosenheim, where he graduated as an industrial engineer in industrial woodworking, and his second degree in business administration, everything focused on woodworking in all its forms.
So, to say he knows woodworking, may be simplifying things.
He is in fact an expert, one who has spent years running a large-scale furniture manufacturing plant in Toronto with more than 800 employees, and a couple of decades as an industry consultant, first with Schuler Consulting and now with Lignum Consulting. Over the years he has consulted for companies all across North America, Europe, Africa and Asia, but his focus has and will always be the Canadian market.
Our readers will also know him – and have benefited from his vast knowledge - as one of our expert columnists.
So who better to ask than Sepp Gmeiner about what people can do and what the challenges are they may be facing as they are adapting to the changes forced on the industry by the U.S. housing crisis.
Many companies read the signs, made the necessary changes to their operations and adapted well to a changing industry and a changing marketplace.
"There are a great many companies that are doing very well in this new economy," Gmeiner says, "but unfortunately there are still too many who are waiting for the good old times to return and that is not the right approach."
The ones that are doing well got their act together, they scaled back, they made internal improvements and found new efficiencies and have faced up to the new reality, Gmeiner says.
The ones that are still struggling are the ones that kept everything the same and are still waiting. They are holding on to old capacity and old ways of doing things. They are waiting for that 'sign' that may never come.
"I have talked about this many times, at meetings and in my columns and I can't stress it enough, you have to adjust, you have to find efficiencies and adjust to the new reality," he says.
"The good news is that there is a lot that can be done and much of it won't cost you anything other than the will to do it."
It all starts with measuring. If you don't measure anything, how will you know what to change? But once you start you will see right away that it is easy to make changes and improve the numbers, Gmeiner says. Just by addressing it you are making it better because now you are aware of it.
He says companies must deal with:
• Fixing their strategy
• Lean implementation
• Continuous improvement
• 5S
"I find it difficult to understand that every company is not already doing this," Gmeiner says. "What better time to look at your operation and find improvements than when things are slow. Are they too comfortable with the status quo, or are they afraid of change?
"Look at your pressures, look at margins, product variety, lead times, overseas competition, exchange rates, shorter product lifecycles, customer demands (often for more choices) and customer service and quality.
"And look at what's important to you and write it down. Get numbers for everything, identify the problems and track them. If you don't track them, you can't improve them.
"I said it before and I say it again: What gets measured gets attention and what gets attention gets better. "This is not complicated stuff, it's not rocket science and you don't need sophisticated analysis, it's really very easy if you commit to it," he says. There is a lot of competition, customers are much more educated and knowledgeable than ever before and product quality is a must, he says. And if everybody else is more versatile, you can't stand still if you want to succeed. It's not good enough to be able to offer just two doors anymore. But Gmeiner says this is actually good news for smaller companies. They are quicker and more flexible and thus better able to compete and change direction at a moment's notice.
"They usually do one kitchen at a time anyway, so they can easily offer more choices and more custom work. He also encourages companies to take advantage of the many other free opportunities to improve their business.
"Join an industry association, take advantage of their free services, go on as many shop and tech tours as you can and talk to your suppliers," Gmeiner says.
"They are the experts and they are there to help you and you should take advantage of that." More than that, having reliable, long-term supply partners is important because they are a key component to ensure consistent quality and consistent pricing.
"And as a company, you need to look outside your business regularly, look at what others are doing, it's the only way to be sure you are not falling behind."
And more changes are sure to come. Customers will want even more variety, they are getting used to ordering custom products online and soon they will expect the same from our industry as well.
Labour shortages (skilled labour) will continue and prices will continue to be under pressure.
Another omission by many companies in the industry is their failure to look for and access export markets, Gmeiner says.
Those markets are there for the taking. Canada is well liked and has a great reputation around the world, but too few companies are taking advantage of those potential export opportunities. Many Canadian manufacturers did great business in and with the U.S. before the crisis. It was close and it was easy, especially with a low Canadian dollar. But when that market dried up, many companies had nowhere else to turn and that still has not changed, he says.
"It may take some time to develop that market," says Gmeiner, "but it is well worth the effort. I recently visited a company in B.C. and they have developed a market for their products in Japan and those exports now account for about 1/3 of their business."
Design is important
Gmeiner says one of the big challenges for any business is its ability to stand out. So rather than produce more of the same, companies should try to put their own spin (design) on things.
Just look at Apple, he says. They are very successful at selling premium products at premium prices and what sets them apart and the reason for their success is a well-designed, quality product. He says it's not that difficult to build a cabinet, but why not make your product stand out from the rest.
"Offer your customers something special – and the easiest way to do that is through great design."
And speaking of design and the front office in general, Gmeiner says changes here are the next big thing coming down the pipe, namely boosting productivity in the front office.
"Everyone has or should have streamlined their manufacturing operations by now, but so far not many have done the same work in the front office," says Gmeiner.
"This is where the next big productivity boost will be found. Once you implement those changes, from design to order entry – and it can all be done with software – you are able to drive date from the customer to the machines much more quickly and efficiently. This will be the next step and you might as well start planning for that now.
"People work in the business and I want to stress the importance to also work on the business," Gmeiner says.
"Of course they need to get the orders, get the orders out and then get paid, but I'm saying you also need to take time away from that, to make things better, to be more efficient and profitable.
"And this has to come from the boss, they have to make that happen and once they do, they will usually find solutions and things will get better because they are getting attention."