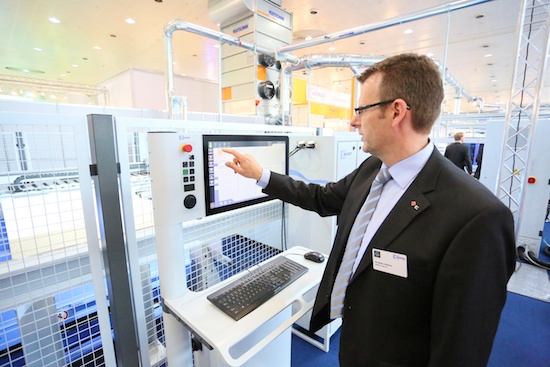 Photo: Woodworking
Christian Vollmers demonstrates powerTouch, HOMAG Group's new touch screen interface, at LIGNA.
Christian Vollmers, the president of HOMAG Canada and regional director North America for the HOMAG Group, has been appointed as the new president of Stiles Machinery. Vollmers told Woodworking Magazine he will also continue his position as president of HOMAG Canada.
The HOMAG Group announced earlier this month that it has acquired full ownership of its former US distribution and service partner Stiles Machinery effective Feb. 3, 2014.
According to the announcement, HOMAG Group, the world's leading manufacturer of plant and machinery for the woodworking industry and cabinet makers has increased its share in the voting capital of the U.S. distribution and service company Stiles from 26.7 to 100 percent.
"Within our industry, the U.S. is one of the dynamic markets with growth opportunities and is for us of strategic importance," HOMAG Group ́s CEO Dr. Markus Flik said at the time of the announcement.
With a market share in excess of 35 %, Stiles is the leading distribution and service organization for machines and production lines for the U.S. woodworking industry. With more than 290 employees, Stiles generated annual sales revenue of about USD 158 million in 2013.
With its 15 specialized production companies, 21 group sales and service companies and approximately 60 exclusive sales partners worldwide, HOMAG Group's position as a complete system supplier is unique. Backed by a workforce of some 5,000 employees worldwide, the company sees itself as the leading global manufacturer of plant and machinery for the woodworking and wood materials processing industry and cabinetmakers active in the production of furniture and construction elements as well as timber frame houses. The group also offers its customers a wide range of services, including software and consulting services.