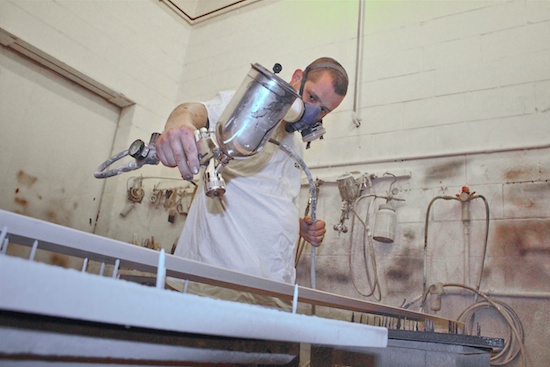 Photos: Woodworking
Coatings manufacturers avoid the term 'green,' talk about VOCs instead.


PART 1 IN A SERIES
Why it might be a good idea to consider water-based coatings

There is a lot of talk about so-called 'green' products and services, but what does that actually mean?
Definitions for that sort of thing range widely.
'Green' can mean anything from a product having qualities that will protect the environment, is sustainable, or to at least have a reduced environmental impact. It can also mean it's energy efficient or has low maintenance requirements. And it can refer to the use of recycled materials or renewable resources, or that something biodegradable and/or easily reused.
In other words, there is no one clear definition and that's a problem, especially when it comes to the secondary woodworking industry.
John Miller, the Canadian sales director for Sherwin-Williams, says it's exactly that ambiguity that has many coatings manufacturers - including Sherwin-Williams - avoid marketing coatings that use that term.
"It's a term that became popular more than a decade ago, when many 'green' products and services were rushed to market," Miller says.
"The problem is there wasn't, and still isn't a clear and consistent definition for what 'green' means. So instead of using that term, we focus on highlighting specific coating's attributes that can enhance recycling efforts and sustainability programs, such as by helping to lower VOCs or improve air quality."
He adds that Sherwin-Williams is ready and committed to provide solutions to help customers meet their sustainability and productivity goals. The company has introduced several products, such as a family of formaldehyde free finishes and waterborne finishes, that help manufacturing customers reduce waste throughout their manufacturing process – including time, movement, manpower, and energy.
So far however, waterborne and formaldehyde free finishes only make up a small part of the overall wood coatings market in Canada.
"Less than 10 per cent," says Andrew Scott of Venjakob Canada, which manufactures an extensive range of surface finishing machines.
Scott says there is interest in the technology from about 25 per cent of their customers, but the actual implementation and complete conversion is still well below 10 per cent.
"Waterborne finishes are getting better all the time, especially the UV stuff and we have the technology to outfit you with the appropriate machines, but I think until customers demand those finishes or there is legislation, most manufacturers will stick with what they are doing now 
and that is solvent-based finishing."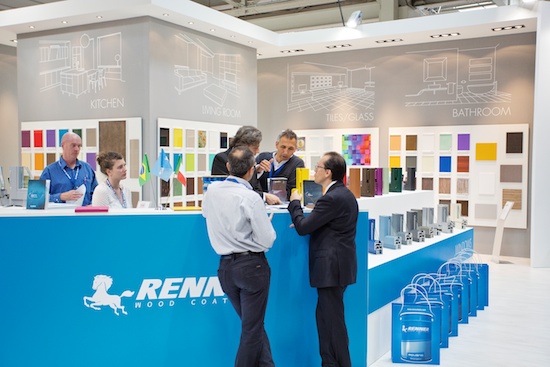 Miller agrees and adds he believes in time more people will change because they have to in order to address customer demands or in order to comply with legislation.
"Some companies have outgrown their air permits and VOC limitations affect their need to increase production, while others have been penalized by air quality regulatory agencies and are now required to use waterborne finishes. Others still may use waterborne finishes as a reaction 
to insurance company pressures.
"And then there are those who are electing to use waterborne and formaldehyde free products as a statement to their customers, demonstrating their dedication to the environment, " says Miller.
Tim Costin, the Canadian business director for Valspar also advises caution when it comes to using the term 'green.'
"It really could mean a lot of different things, anything really, so 
I think you have to be careful with that term. If we're talking about finishes, something using less VOCs could be called green. The same for non-hazardous solvents or not-smog-causing products."
Also, a lot depends on where you are in Canada as different provinces have different limits.
Ontario has its Toxics Reduction Act, which aims to protect the health of people and the environment by reducing the use and emission of toxic substances.
Costin says what some manufacturers are doing is have their products tested to get their GREENGUARD Certification. GREENGUARD Certification is part of UL Environment, a business unit of UL (Underwriters Laboratories). GREENGUARD Certification helps manufacturers create - and helps buyers identify - interior products and materials that have low chemical emissions, improving the quality of the air in which the products are used.
The City of Toronto has an Environmental Reporting and Disclosure Bylaw, which requires companies – large or small – that are using these substances and releasing them to the air, to report them to Toronto Public Health each year.
The companies that have to report include many large facilities in the City like sewage treatment plants and power plants. But they also include hundreds of small facilities that you might pass by every day without even noticing – printing companies, dry cleaners, auto body repair shops, food and beverage manufacturers, and small furniture makers. Other municipalities have similar requirements, but there is no one rule that applies to everyone.
Environment Canada has rules and regulations under its Environmental Protection Act that governs Volatile Organic Compound (VOC) Concentration Limits for Architectural Coatings. However, this regulation deals mostly with the manufacture, distribution and sale of coatings.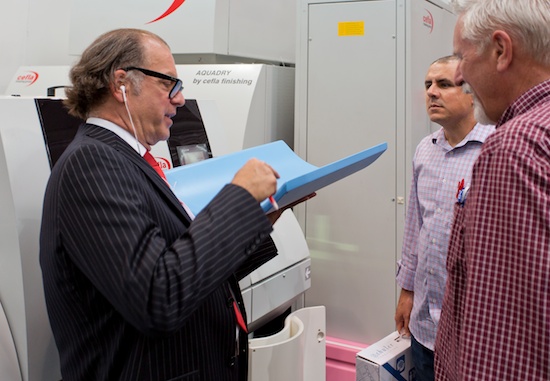 And yet, as society in general and customers specifically are increasingly aware of environmental issues, there is no doubt they will start to demand more 'green' products.
John Miller says Sherwin-Williams believes demand will start to increase when more Millennials begin to enter the housing market as they will likely look to more sustainable products in the kitchen market since they are aware of and interested in addressing environmental issues.
And already, he sees water-based finishes taking up an increasing portion of the market, primarily in UV coatings, both clear and pigmented. Miller says Sherwin-Williams introduced the Ultra-Cure Waterborne UV Pigmented Blending System at IWF in Atlanta last year, which provides advantages beyond the waterborne aspect. It can cut production lead times from weeks to as few as three days, and that's another industry-leading advantage for OEMs and wood finishers.
"Our most popular waterborne products are the UV clear coats for the kitchen cabinet market. Next, it's probably a single component clear topcoat," Miller says.
Costin says there are a number of challenges when it comes to converting from solvent-based products and the transition has been fairly slow.
"It is a growing market, there is no doubt about that, but so far it is still fairly small."
He estimates about five percent of companies are using water-based finishes exclusively, while as many as 25 per cent have converted at least partially.
Valspar offers, among others, its popular ZENITH Waterborne Lacquer, a third-generation waterborne coating designed for finishing fine woodwork. It has been formulated with proprietary resin technology to yield a finish that is superior in durability to conventional nitrocellulose finishes. Zenith Waterborne Lacquer is a low VOC, HAPS-free formulation that contains no isocyanate or formaldehyde.
Some companies have run into problems trying to convert to water-based, is that still an issue? Costin says water-based finishes have improved dramatically over the past few years and that innovation continues at a rapid pace, but there are differences to solvent-based finishes and it pays to do your homework.
"They can be more difficult, air temperature and humidity levels have a much bigger impact on your finishes so controlled conditions are critical," he says.
"We have excellent water-based finishes, but I think if anyone is considering a changeover, they'd do well to talk to their supplier who will help them. There are a lot of things to consider, from colour-matching to the inevitable fibre-pop that happens when you put water on wood, but it's all manageable," Costin says.
"This is not something manufacturers have to tackle by themselves, that's where we the suppliers come in. We will help them with the transition. We will make sure it's done right, in small steps and then it will be efficient and painless."
Michele Bresolin, manager for Eastern Canada for Kremlin Rexon Sames, a leading manufacturer of spray guns and other finishing and coating equipment, says water-based finishes are growing in popularity, 
but he agrees that it's fewer than 
10 per cent of manufacturers who have adopted it.
"It's probably more than 10 per cent by volume and I see that market continuing to grow," he says and adds that a number of customers have transitioned because they manufacture office furniture for the U.S. market where solvent-based is out, or local authorities limit their VOC emissions or they have exceeded their emission allowances.
But generally, the transition has been slow, in part because of old perceptions and because of the challenges that come with it.
The aforementioned question of durability, Bresolin says, has long been addressed. Finishes "have come a long way and are really good now. However, there is still the fact that water-based is harder on the equipment, there is more pigment and it is tougher to clean.
"But you don't have to worry about VOCs and I think it's just a matter of adjusting how you do things and since demand for that kind of finish will continue to grow – especially in the kitchen industry – companies should take a serious look," Bresolin says.
"If you want to be greener and have less VOC, that's the way to go."
John Miller agrees saying there is "always a learning curve when converting to a different technology, and that's where working with a coatings supplier that provides technical expertise and advice beyond the sale can pay off for the wood finisher.
"Our experience shows that such a partnership can drastically shorten the learning curve and help the finisher's throughput and profitability," says Miller.
Durability and performance
There is some concern that low VOC and/or waterborne coatings are less durable or have poor performance that may require more applications in order to obtain results comparable to regular solvent-based coatings, however those concerns are unfounded.
There may have been some problems with early water-based coatings, but times have changed and Paint Direct of Calgary, Alberta, a division of Richelieu Hardware Ltd., cites an Environment Canada background economic study that says that already in 2002, there were "compliant coatings in the market that had acceptable performance attributes. In fact, compliant coatings already represented a significant portion of the supply in many categories at that time. In some categories, low-VOC coatings may in fact have performed better than higher-VOC alternatives. Environment Canada does not expect reduced performance from compliant architectural coatings.
"Studies found that the performance of VOC-compliant coatings did not vary significantly from the performance of non-compliant coatings."



What are VOCs
Volatile organic compound (VOC) emissions from consumer and commercial products are a significant contributing factor in the creation of air pollution in urban areas. The use of consumer and commercial products results in emissions of VOCs from solvent-based products, and to a lesser extent, water-based products. These emissions contribute to the formation of ground-level ozone and fine particulate matter, which form smog.
The Government of Canada is working to reduce emissions of air pollutants in order to protect the environment and health of Canadians.
Environment Canada