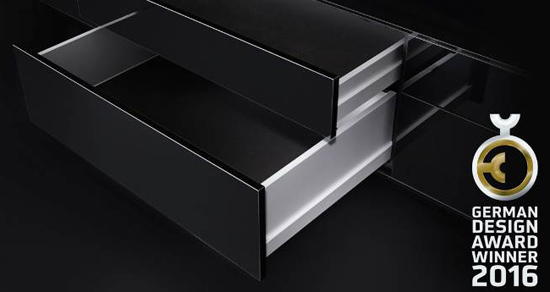 GRASS has won the prestigious German Design Award 2016 for its Nova Pro Scala drawer system.
NOVA PRO SCALA, which incorporates the best of Nova Pro and much more, is a high-quality drawer system with a purist design, which convinces with its harmoniously tailored range of different design and personalization options – in wood, metal, mineral and glass, or a combination thereof.
From the drawer solution to an interlocking rail option to the high 186-mm frame: Nova Pro Scala stands for minimalism in the right angle. And it's the right-angled design of the Scala frame that makes it possible: the magnetic L-profile is not only easy to mount, but also creates an interlocking joint.
The result is an elegant, well-proportioned solution with clear lines and the finest materials.
The German Design Council was founded as a foundation in 1953 by decree of the German Federal Parliament at the initiative of the German Parliament. It supports the business world in all aspects of design and is one of the world's leading centers of expertise on design.
The German Design Council repeatedly champions good design through its competitions, exhibitions, conferences, seminars and publications.
Today, the foundation boasts more then 200 members, including designers, corporations, associations and institutions – all of them committed to the principle that design is more than just a sleek surface but a crucial factor for business and cultural success.